Our Company
Rider Owned.
GeoMetron Bikes is a rider-owned, independent bike company based in Monmouth, South Wales.  Born from a desire to push the boundaries and question the status quo on geometry and suspension kinematics.
It's the details that really matter to us, we take our time to make sure everything is perfect. We're not here to make thousands of bikes, we're here to make a handful of great bikes that will be truly meaningful for their owners.
Our goal is lifelong customers.
Our Bikes
The Bikes Speak!....... Actually. They Shout.
If a slack head angle, low bottom bracket and long wheelbase is better, faster and safer then why not keep going? Can it be even better, even faster and even safer? We are not bound by what we think the 'market' wants nor are we bound by the road bike heritage, we have the freedom to design bikes for ourselves to be long, slack and low and test those theories. We did just that and they really, really work! Don't just take our word for it… We have fully built up test bikes to prove it to you!
62-63.5° Head Angle to handle well at speed and in the difficult situations (we've expressed HA as a range because we can fit different length forks and shocks to achieve the best solution).
To make sure it's fast over the bumps we lowered the Bottom Bracket as far as we dare (330-340mm approx) so that we can get the weight on the cranks swinging under the front axle and not driving the front axle into the bump face. We also tailored the anti-squat to be just enough when you are in the gears used for technical climbs. In this way, the anti-squat falls away reducing the feeling of 'hang-up' on the bump edge as you shift into higher gears. This involved us specifying a higher main pivot in the first instance and allows a range of 30T, 32T or 34Tchainrings and an individual ride height depending on your riding focus.
We have a steeper than normal 77° – 79° seat angle to get a better drive over the cranks when the bike is climbing. We have enough room in the GeoMetron's cockpit to allow a comfortable saddle position and gain a more direct drive over the cranks without sliding the saddle back or using a long stem. We tailored the linkage progression to suit a modern air shock and more dynamic, modern riding style. With most modern linkage designs being way too linear for the UK market this will be a massive benefit to the dynamic rider.
MADE IN GERMANY
Every Geometron frame is 100% made in Germany by our partner Nicolai Bicycles
All Geometron frames are handmade by highly skilled engineers with a keen eye for detail, a high level of craftsmanship and welding. We truly believe we are producing the best aluminium bicycle frames in the world. A seal of quality – Safe, Reliable, Robust!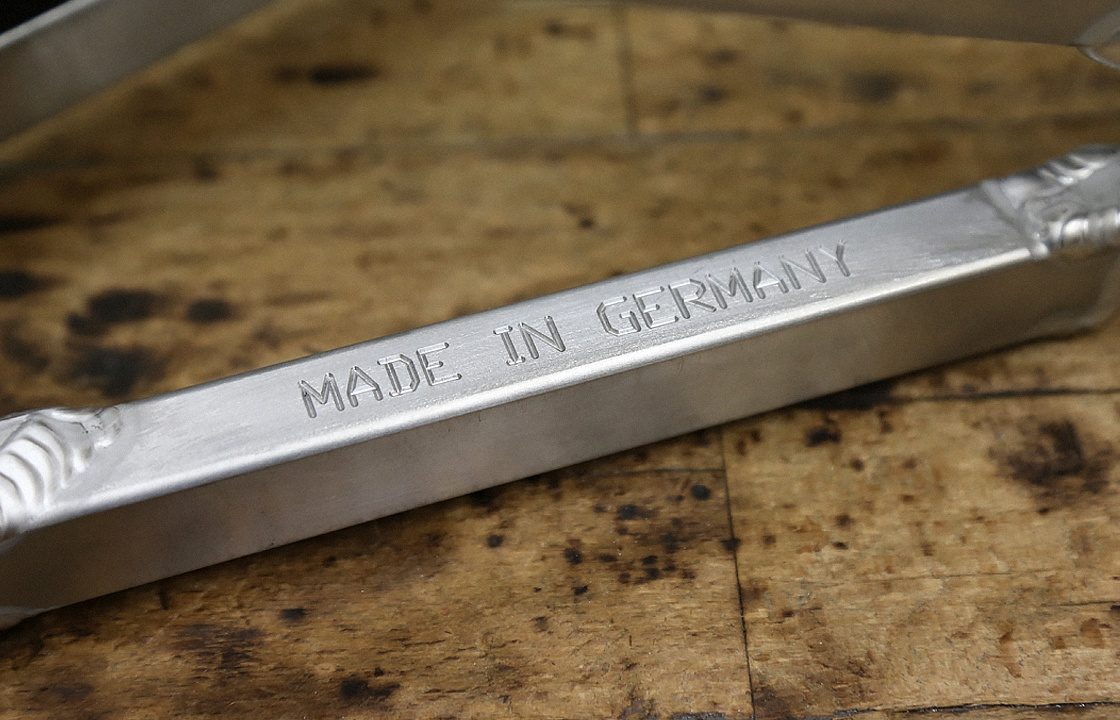 Our Team
WE LOVE BIKES....
Long ones, longer ones, mountain, road (OK this only applies to Paul)…. If it's got two wheels (that includes motorcycles too) it's OK in our book.  We choose to start GeoMetron Bikes to share our love and passion, we know our bikes aren't going to appeal to the masses but honestly how boring would that be.
Need Some Help?
Manuals
Here is a collection of a few manuals to help you get back on the trails
A collection of Rockshox Fork related manuals

RC3 - Download