Ian
Peak District, U.K.
Honestly the bike should come with a health warning, it's the devil on your shoulder egging you on to go ever quicker!!! What a bike, it really is a brilliant all-rounder, a true mountain bike. The climbing position is fantastic, no need to shuffle forwards on the saddle and no lift on the front end, super comfortable. The comfort on the downs is reassuring, a sound from between your legs letting you know the Storia is doing its thing which it does ridiculously well. Grip, for days, sublime damping but still loads of feel and pop. The mullet back end loves to "oversteer" but in an addictive controllable manner. The fork set up is nice, I may drop a little ramp up pressure BUT to be fair they're working nicely with great support. Brakes are great, nice and progressive, small amount of initial pump but don't vary in use. The saddle is v comfy and the short length helps with moving around, worth considering if someone has stumpy legs like me.
Yes, theres definitely new bike syndrome but the G1 is something very special (which you obviously already know ), I genuinely cannot wait to get it into the mountains.
Just to echo my previous comments, thank you for all of your help getting this build together. You and the rest of the Team are consummate professionals and I can't recommend the service and ultimately the product enough.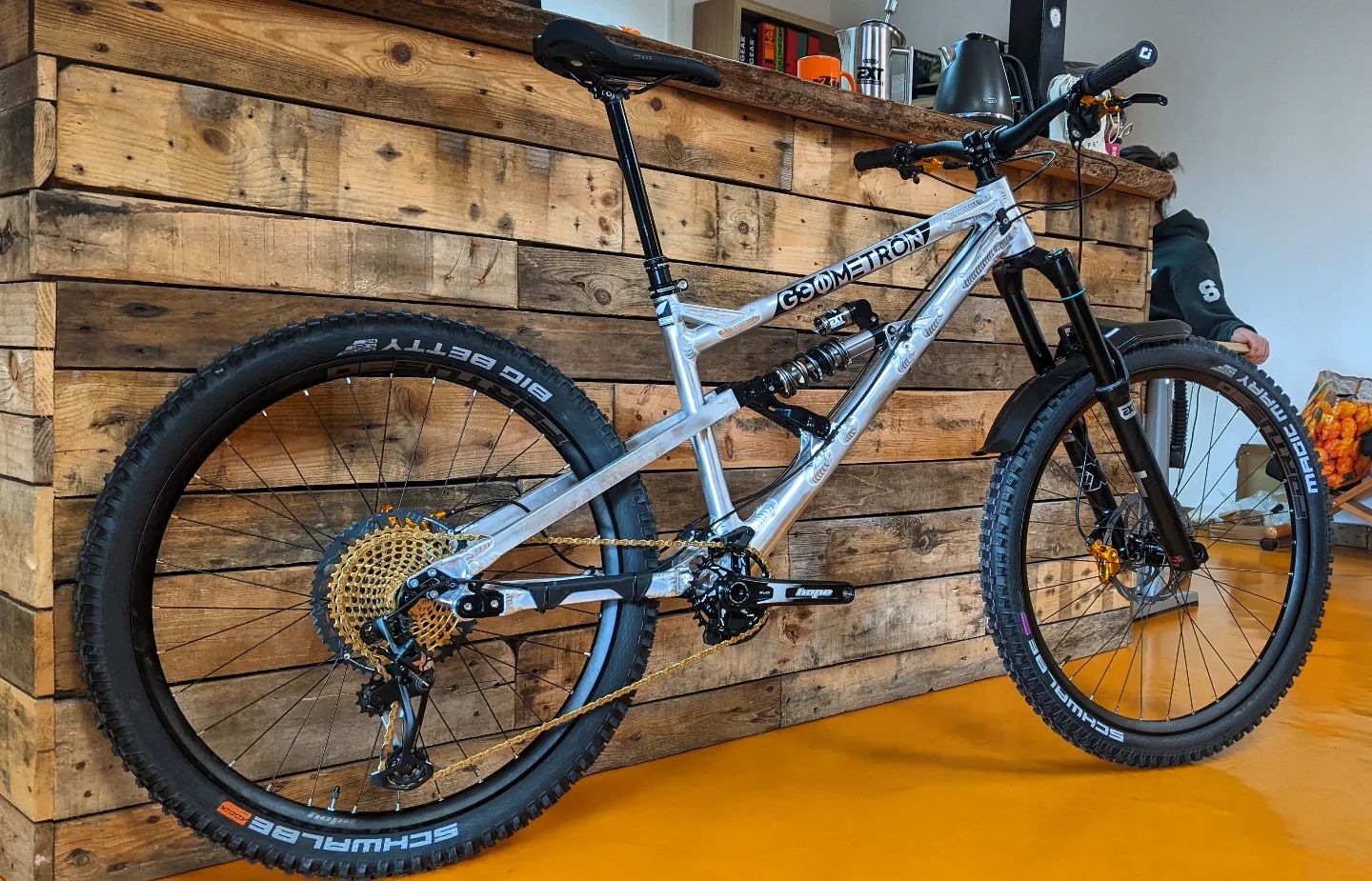 Damian
Albuquerque, USA
I just wanted to take a moment and thank you, I feel fortunate to have found Geometron and be able to work with both of you to own the bike of my dreams.  I used to dread riding some trails.  I would make excuses why they were too hard to climb or choose to ride easier places from time to time.  Not anymore, this bike has made riding fun again for me.  I have been able to ride the G1 in the most technical places, while pushing longer distances and tougher climbs. All while PRing on Strava.  I am more comfortable all around and less fatigued after rides.  I also feel more safe shredding downhill.  Every chance I get, I let friends know how amazing this bike is and what a great company GeoMetron is.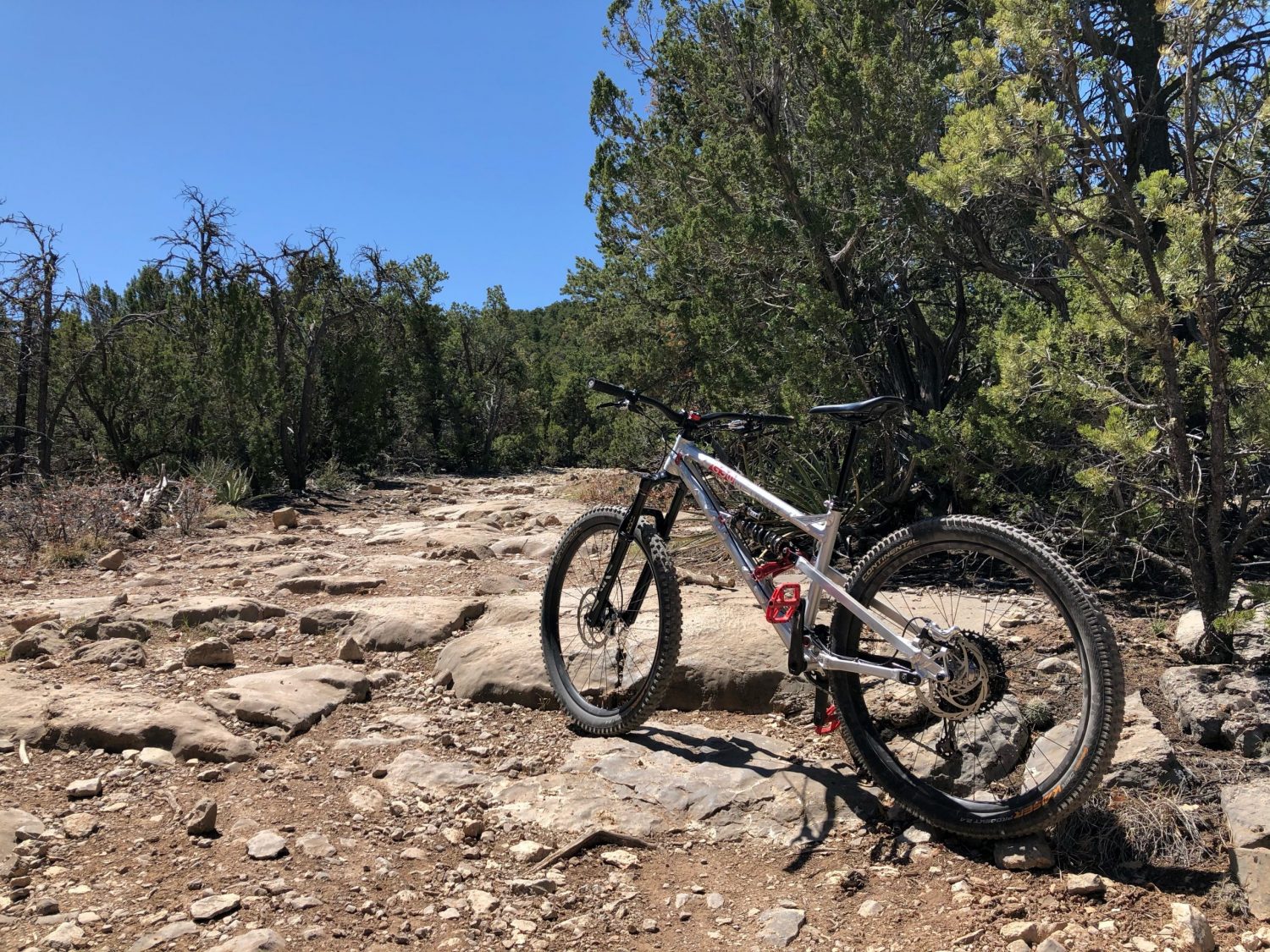 Steve
Washington, USA
The bike did arrive here last Wednesday, a very quick delivery time which was awesome. We built it Wednesday night and some on Thursday. Friday several of us went to the trails and did a lot of shuttle runs from blue to black rated trails, hardpack to brand new loam trails. After a few runs and a few minor adjustments, it was feeling good. Saturday and Sunday put on about 3500 feet of climbing and it climbs well, no complaints.
Anyway, thanks for a great bike and great customer service. I would recommend you to everyone. But around here it is all carbon Evil's, Transitions, Specialized, etc. On second thought, they can keep theirs and I will be one of the few with a real custom bike…Ha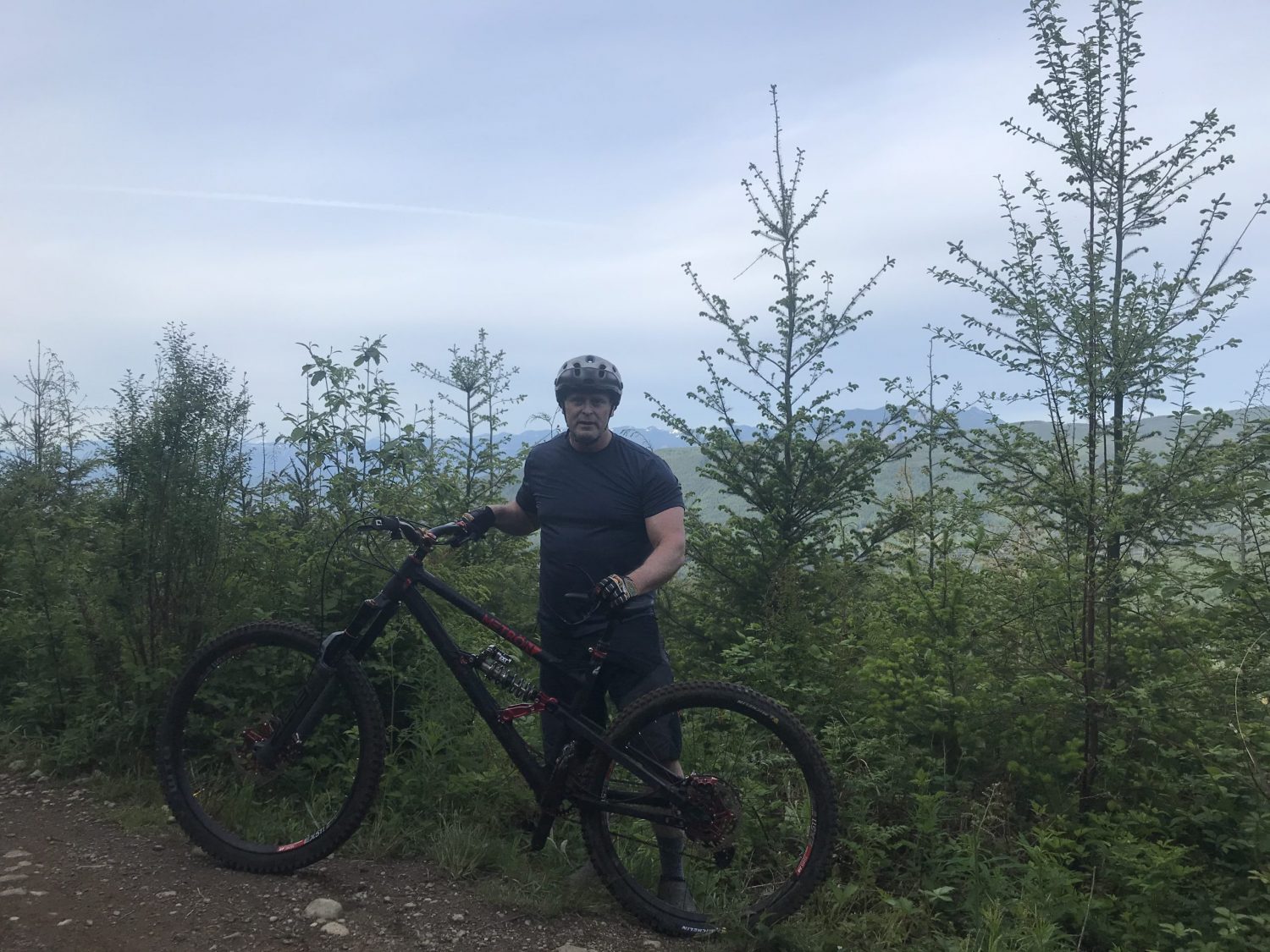 Richard
Singapore.
The G1 is all up and running, It's a lovely bike.  Assembly was straightforward with no issues, although I had to fiddle a bit to get the dropper cable up the seat tube. Everything is well thought out on the frame, and the cable routing is top notch compared to every other bike I've owned. It looks awesome too.
First proper ride was a hot and sweaty night ride in the jungle, mostly technical roots and tight twisty narrow single track. The handling is easy, no issues in the tight stuff at all. The bike feels really good without even doing any further suspension setup. Climbing is quite snappy, the back end smoothly floats over virtually everything and digs in to grip in places where the previous bike never did. There is no harshness or spiking at all. The feel of this coil is totally different to my past two coil shocks/bikes that I rode, far better than both. Overall the rear of the G1 is more controlled and confidence inspiring than the previous bike did, plus it doesn't feel like my energy is being sucked away on the climbs like the Pole did.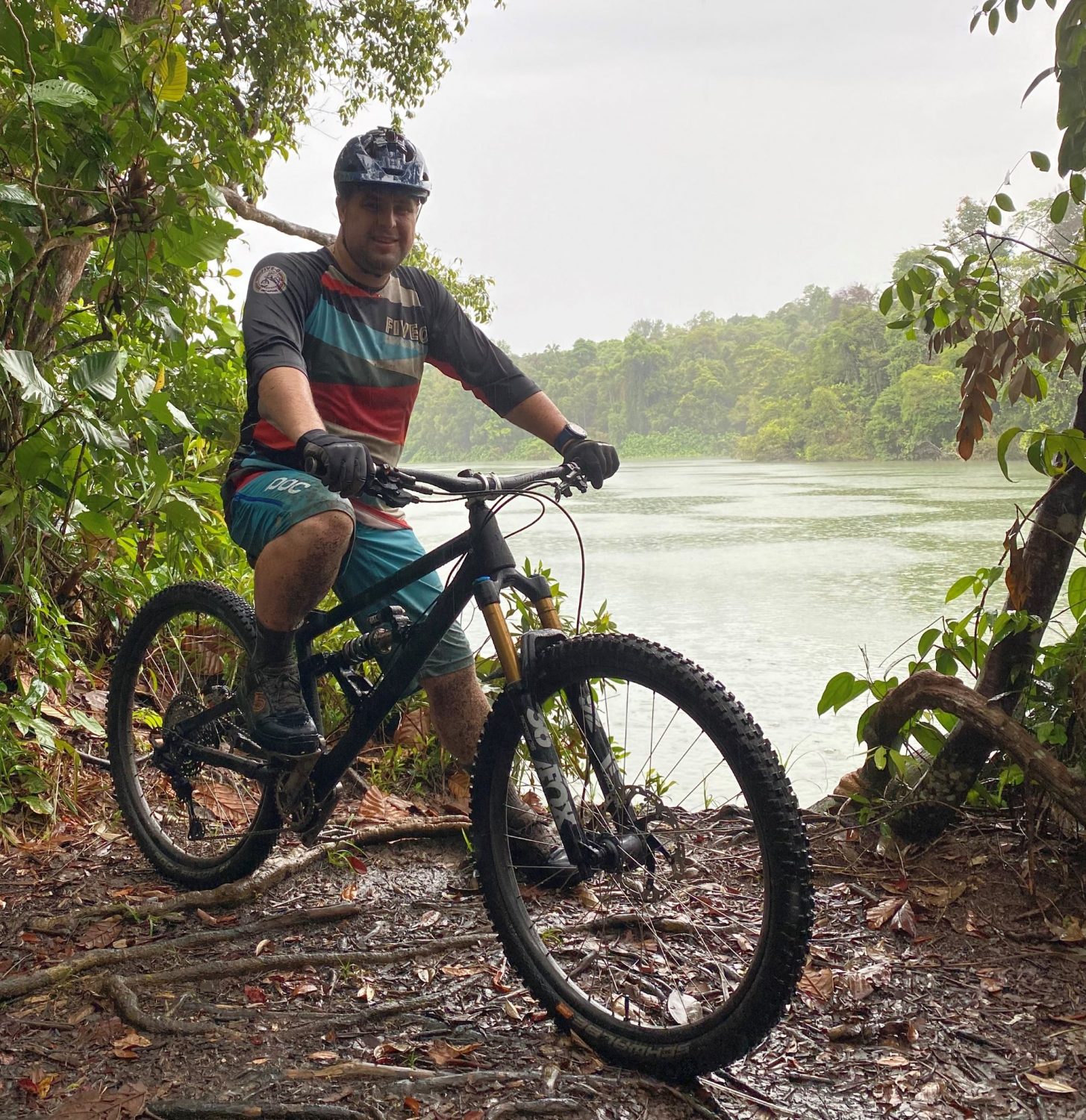 Roderick
Philadelphia, USA
"Dear Paul and Chris, I wanted to send a quick note to let you know what a pleasure it is to build up the G1. The craft and care of the frame is remarkable. By virtue of riding for a long time, I've built up a fair number of boutique frames over the years and none have come close to this one. I'm continually noticing small, carefully thought out details and a remarkable level of precision craftsmanship. The first ride should be this Sunday, and needless to say I'm looking forward to it with great anticipation."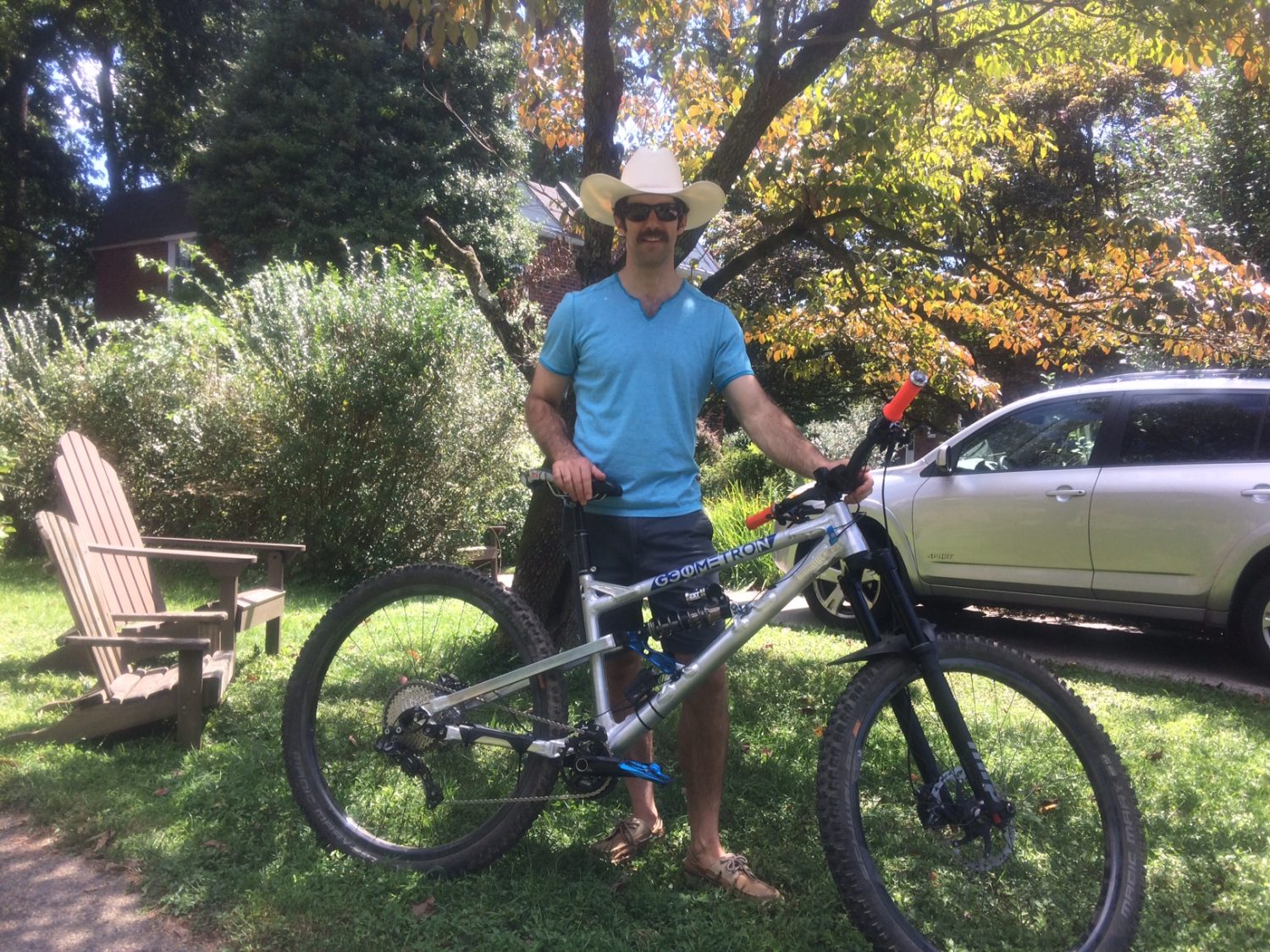 STEVEN
Somerset, England.
I've just made the jump from an Evolink after a demo ride with Chris at Mojo on Wednesday last week. Chris is a bit of a wizard, he put me on a couple of bikes, and advised me to go for the medium G1 based on how I rode on the bikes. He also made tweaks to the suspension setup during the test ride which transformed the G1 from just "brilliant" to "amazing" as he adjusted the handling of the bike match my riding style. I'm also on a slightly firmer spring than the website suggests, but with a softer spring included for me to try if I want.
I built the bike up on Friday, and the first ride went really well at the weekend. It's the best bike I've ever owned by a significant margin. It climbs better, and descends better. It feels more stable and smoother through fast rocky sections, and I'm more comfortable flicking it through steep, loose, & tight switchbacks. Basically, it does everything better than my previous bikes, and I'm feeling instantly at home and comfortable on the bike. I set several PR's on both climbs and descents at a local DH venue
Looking at questions asked here – In no way does it feel a struggle on tight trails! It feels at least as nimble as my 650b Alpine 6 did, but with all the stability and more of the Evolink. 30T round front chainring with a 10-50 eagle cassette, but I didn't use the 50t at the weekend (I needed it all the time on my Evolink and the Alpine 6 before that)
I'd advise anyone considering the purchase of a "modern geometry" bike to go see the guys at Mojo for a test ride. I thought my Evolink was "too big" for me, and would have purchased the small G1 instead of the medium. But there is clearly much more going on with the ride dynamics than I had realised, and Chris has a real knack for spotting what works and what doesn't as he watches you ride, and so makes sure you get the right sized bike and suspension setup for your riding style.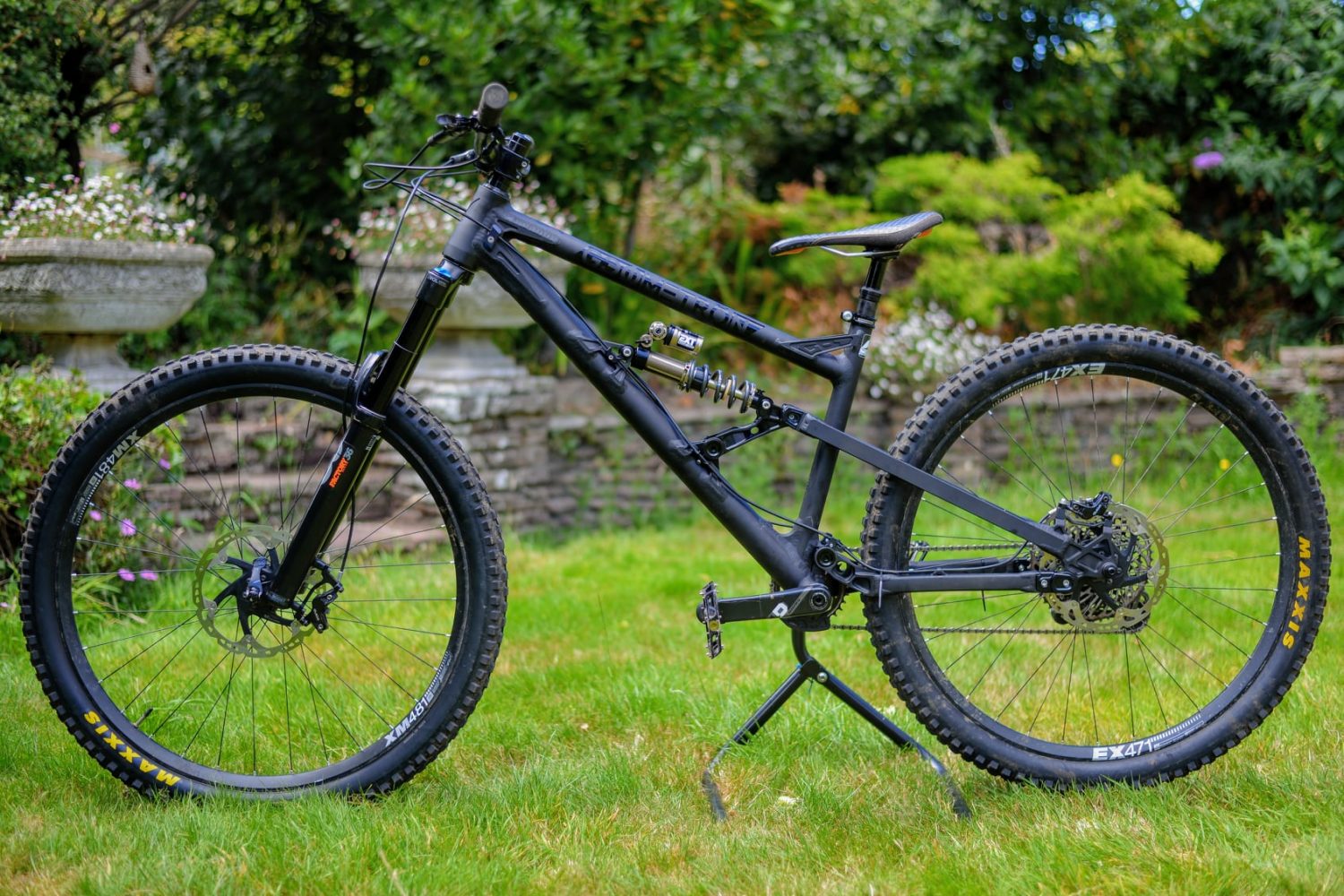 Damian
Albuquerque, USA
Initial ride impressions:
First and foremost the G1 feels very purposefully built.  The riding position feels insanely comfortable, very natural.  It's the first bike I've owned that feels like I am standing in the riding position.  On climbs, I no longer have to lean forward, along with loads of traction.  Today I rode some tight single track.  I wanted to see if the slacked out front end would be a bare to turn, it wasn't.  The local trails have a ton of loose rock along with terrain I like to call "kitty litter.". The G1 was super grippy, in sections I would have normally slid out, at the speed I was riding. I even managed to increase speed through sections that I would normally have taken much slower.  I am still reserving judgment, as to whether the bike is just a tad bit too heavy.  But the the weight might also be part of the purposefully built design.  The added weight makes the bike feel planted.  I even managed to PR on two climbing sections on Strava.  Lastly, and the best part, my knees no longer ache after my ride.  I cannot wait for the spring to ride this beast on blue and black diamond trails.  Unfortunately, these trails are currently full of snow.  I am lucky to live near great trail systems within the Rocky Mountain range, a stones throw from my back yard.
P.S.  Chris Porter is a mad genius when it comes to mountain bike geometry.
Thanks, Damian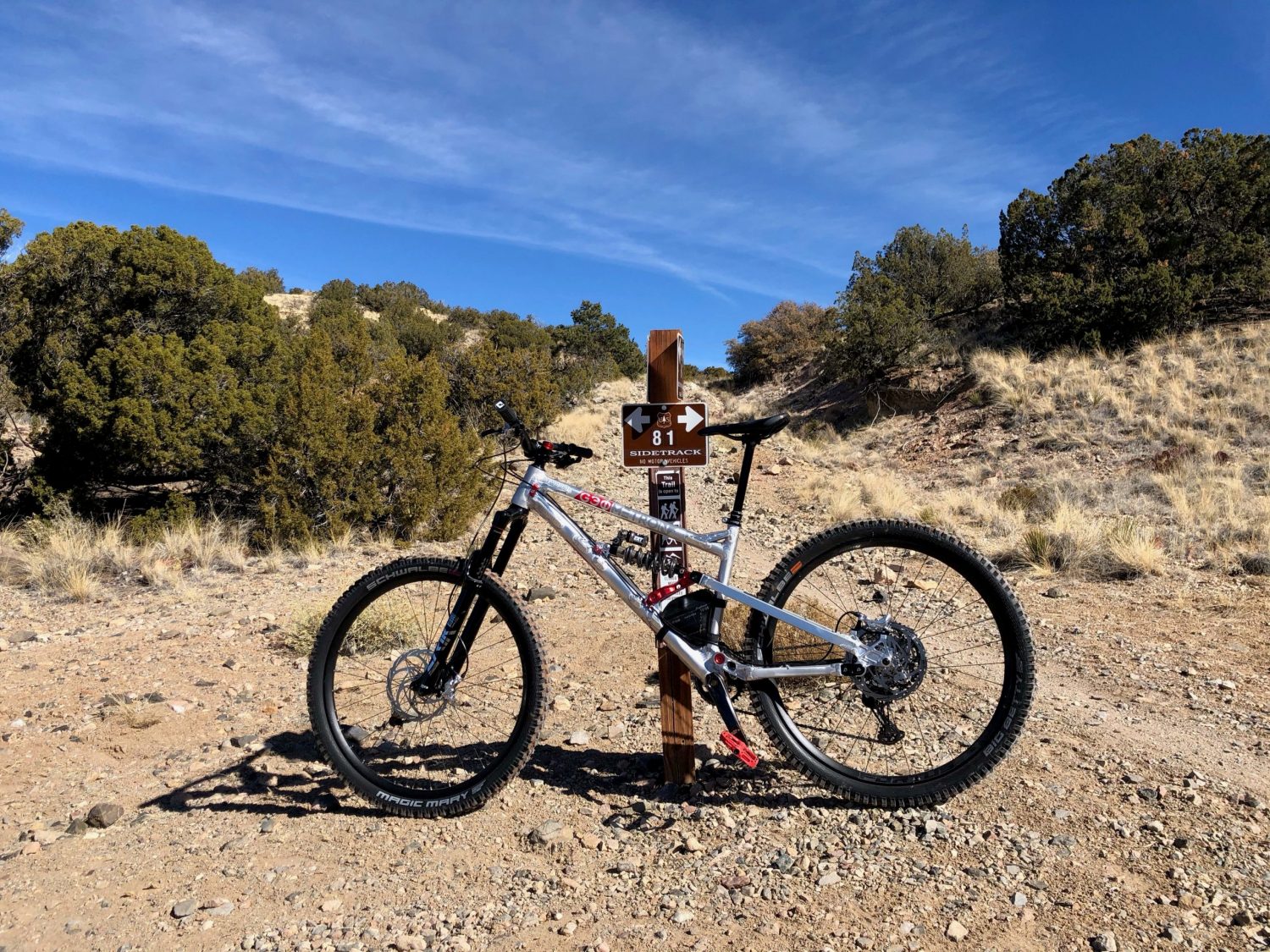 Neil
East Sussex, England.
My thoughts after 5 years on a Geometron with Mr. Porter now at the helm of my 35 year biking journey.
I am 6'2.5″, about 175lb.
Back in August 2005, after about 12 months looking into longer bike geometry on MTBR etc. and extensive discussions, many of those with "The Pilot / AKA chainline Phil" and "Loamranger" [MTBR] – I bought my first G16 (27.5/27.5 size "Longest") after a days test riding at FOD with Chris and Paul and "The Pilot" who jumped on immediately.
(So did Robert "Loamranger" whom I'd just met – on hearing our feedback. He to is now on a G1 XL)
It was just SO nice to be on a bike that fit me! I'd worried about going 4″ longer on reach than my Nicolai Helius, but needn't have, standing on the bike felt so much more balanced.
Within 3 months I'd sold my Nicolai Helius AM and Pivot 429 XC and I've been a one-bike guy ever since. Fast wide open trails, rough ground, tight singletrack, nadgery woods, trials moves even – the Geometron conquers all.
A year later, a second G16 black beauty with longer chainstays (and longer (222 X 70) shock, so longer rear travel). Soon that second bike was converted to a 29″ Lyric upfront for hybrid mode.
Love the 29" front end a lot. It's a rough ground monster truck that handles like a GP bike.
April 2019 I upgraded to the G1 [now on X-Longest], again 27.5/29.
To be honest, I wasn't expecting a great deal of improvements, I didn't feel that was possible, given how superb my G16 was. But as Chris described rather tempting improvements – from the sophistication of the coil shock and, particularly, the removal of stiction by use of spherical bushings I went for it. Black again, it's so durable and easy to care for that finish.
A long test ride on CP's own XL hybrid bike tempted me. I took it home, same day.
And OMG, what an upgrade, it's just incredible. Words escape me (I'll try though). Pedals far better, handles better, descends better, steers better, the suspension is very significantly improved. Very adjustable too.
So, G1 is massive step up in riding fun AGAIN – thanks to Geometron Bikes' ingenuity. It really does still get better every ride.
Another plus is I've been able to easily experiment with geo, just switching the seat stay mutators to try different BB heights. I went lower. 338 static with 2.5 tyres.
Thinking about a long geometry bike? you HAVE to try ride a Geometron. There really is no going back.
Another advantage – build quality AND the support from the team at Wyastone are both superb.
There is a downside
You realise how wrong most of the mag reviews are when discussing "normal" bikes, short chain stays etc. I guess they can't diss the advertiser's geometry or they'd not be in business.
They say, "Just Do It"? – in this case, they are totally right."
Cooper
Arizona, USA
I wanted to email you and say thanks so much for setting everything up, the bike was a smashing hit! Thanks for all your help making the buying process so painless. He felt the improved stability and speed on his first ride and the bike climbed amazingly. You also nailed the suspension setup and I don't think we need to change anything. If you ever have someone in Arizona that has questions or wants to see the bike just let us know because we would be happy to help spread the word. Thanks for all your help the bike is amazing!
Fahzure
Utah, USA
The G1 has been an amazing bike with perfect build quality, a configurable progressive geometry and great kinematics which are accentuated by the Storia V3. Tuning the shock and bike to varying trail, DH Race and freeride needs is always tricky for me and the GeoMetron folks have been outstandingly responsive and helpful, despite being many time zones and thousands of miles away. My G1 is what all bike purchase experiences should be.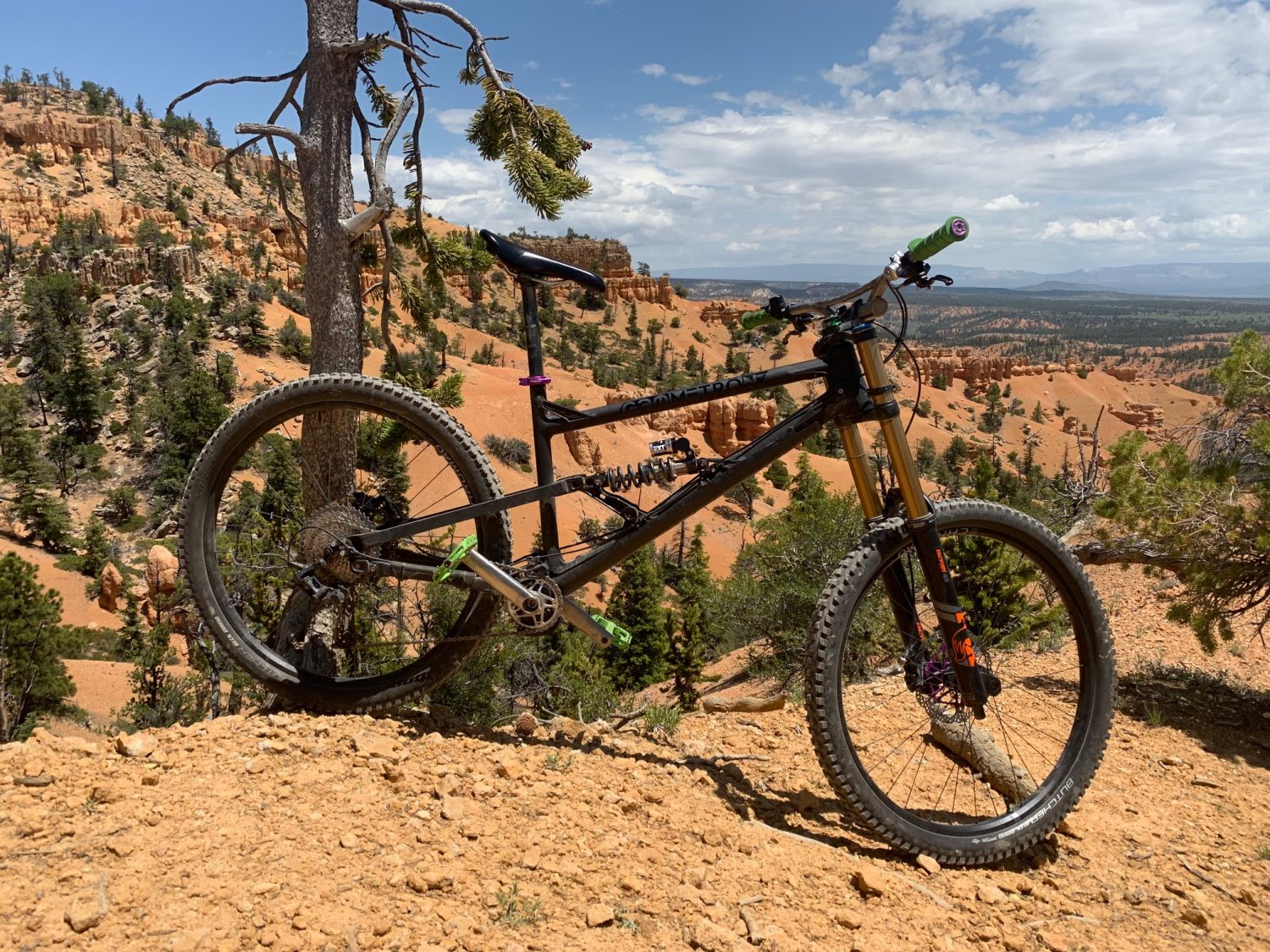 Mark
Arizona, USA
I got my new bike yesterday and it looks amazing! I'm trying to help you guys sell some more out here because it's the most stable, well balanced bike I've ever ridden and I'm sharing the word. Have a great weekend and thanks again for all your help.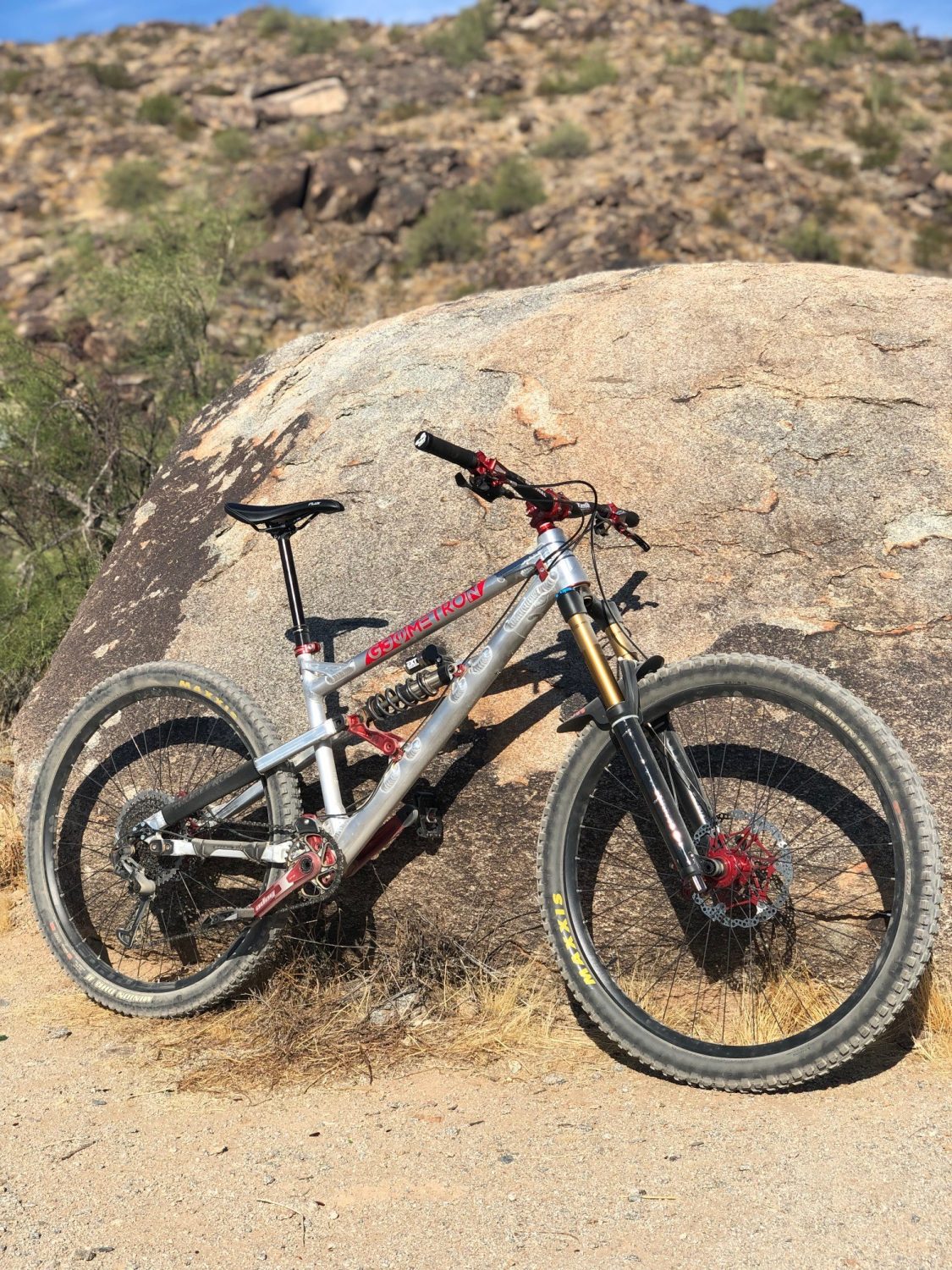 Jason
Los Angeles, USA
I'd like to take a moment to thank the crew at Geometron for not only the amazing frame, but a pleasant and speedy purchase experience. After badgering Sam for months with months with questions about choosing which size to ride and about the G1 vs. G13 vs. G16, I finally pulled the trigger last month and decided I had waited long enough. I did my entire transaction over direct message and email and Sam was very helpful throughout the whole process. I wired the money and within 24 hours they had begun assembly of my frame. Shipping was fast and the parts arrived well packaged and safe. I had a couple questions before assembly that Sam walked me through and he had set up the frame and EXT shock with a fantastic baseline setting to get me going. Assembly was a breeze and my first ride had me wondering why I had waited so long to buy one. On my very first ride I was setting personal records (using Strava data) both going up and descending and every subsequent ride has been getting better and better. The G1 is solid, stable, nimble, quiet, and mind bendingly confidence inspiring. I am 46 years old and feel like I have been riding the wrong size frame my entire life until now. Don't let the geometry numbers intimidate you – Geometron has this equation solved. Many thanks to the crew at Geometron, I'll be a customer for life.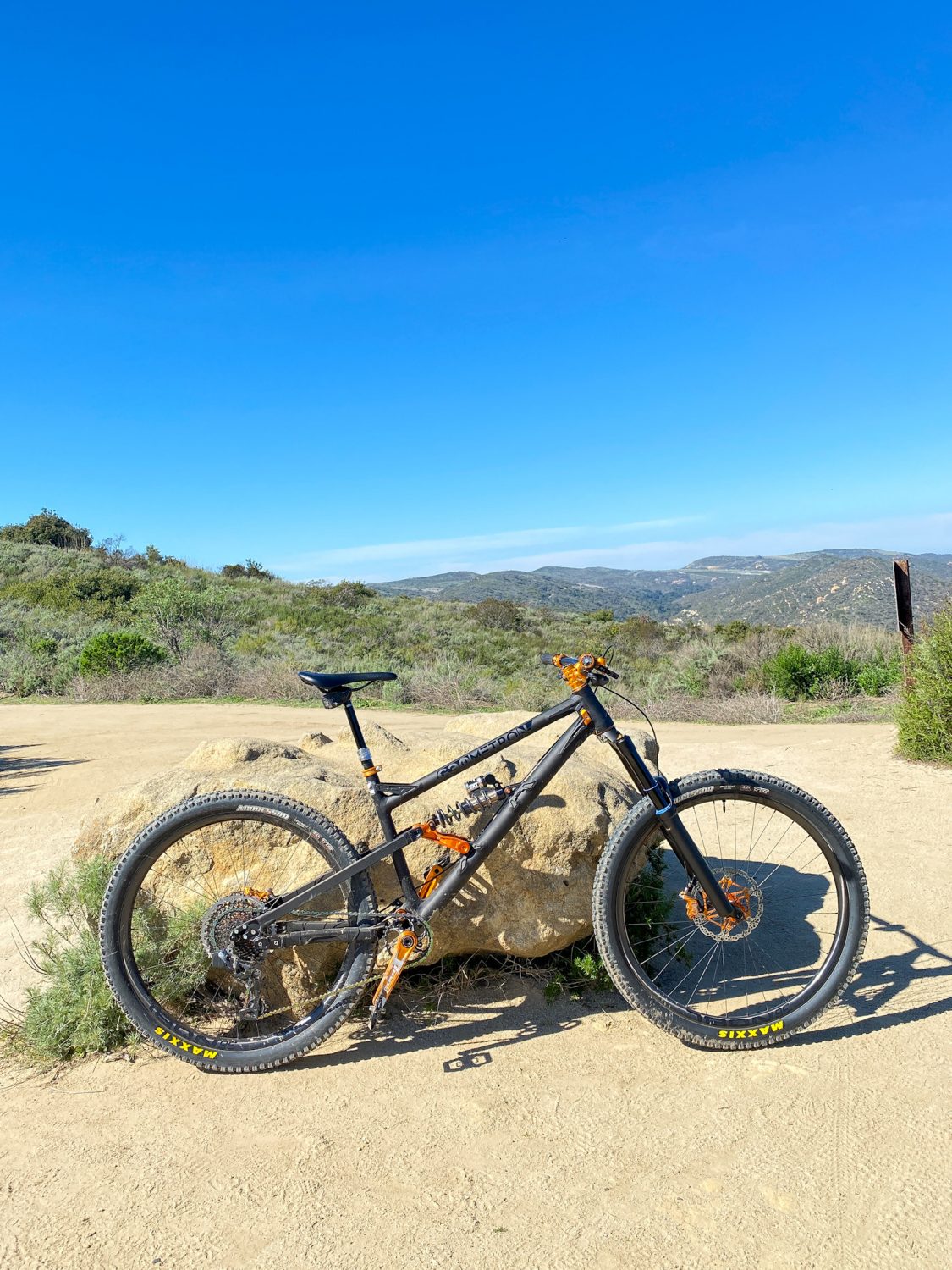 Michel
Quebec, Canada
Hi Paul,
I am finally able to put some miles on the trail with the G1, we are waiting for summer here in Quebec and the snow is melting very slowly…
So, my first impression:
The G1 feels rock solid but not burly. Climbing capacity is really surprising, I can climb hard technical sections on my first attempt! The stability at speed is awesome as i expected. Ext shock and selva fork work perfectly, providing great support and feedback.
The initial suspension setup and base settings you provided are near perfect for me.
This is, hands down, the best bike I have ever rode!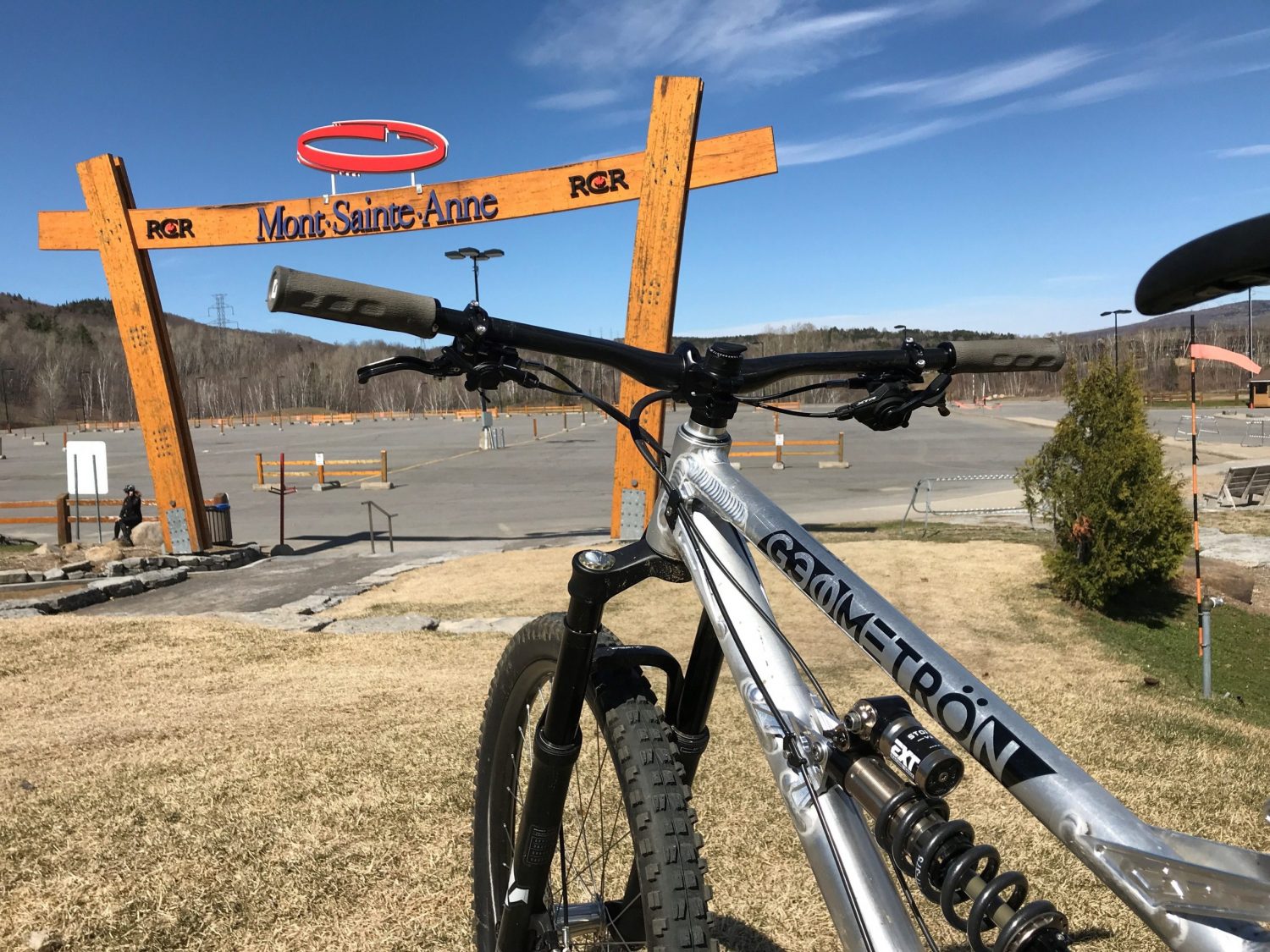 Paul
Bettembourg, Luxemburg
Hi guys, Just a simple love letter. My bike rules! We all know it is super reliable in enduro races, bike parks etc. But surprisingly, this bike excels too on XC courses. Yes yes yes!!! Carbon xc wheels, a lowered cockpit and flip chip in high mode completely change my G16. I did a 70km, 2.500m d+ xc ride and was faster than most (ended in top 15% of participants) xc riders on lightweight carbon xc race bikes. Just imagine their faces when I (aka the guy on a « heavy » and aluminium (omg!) bike and with unshaved legs) was passing them by. Priceless! Thanks a lot I love my bike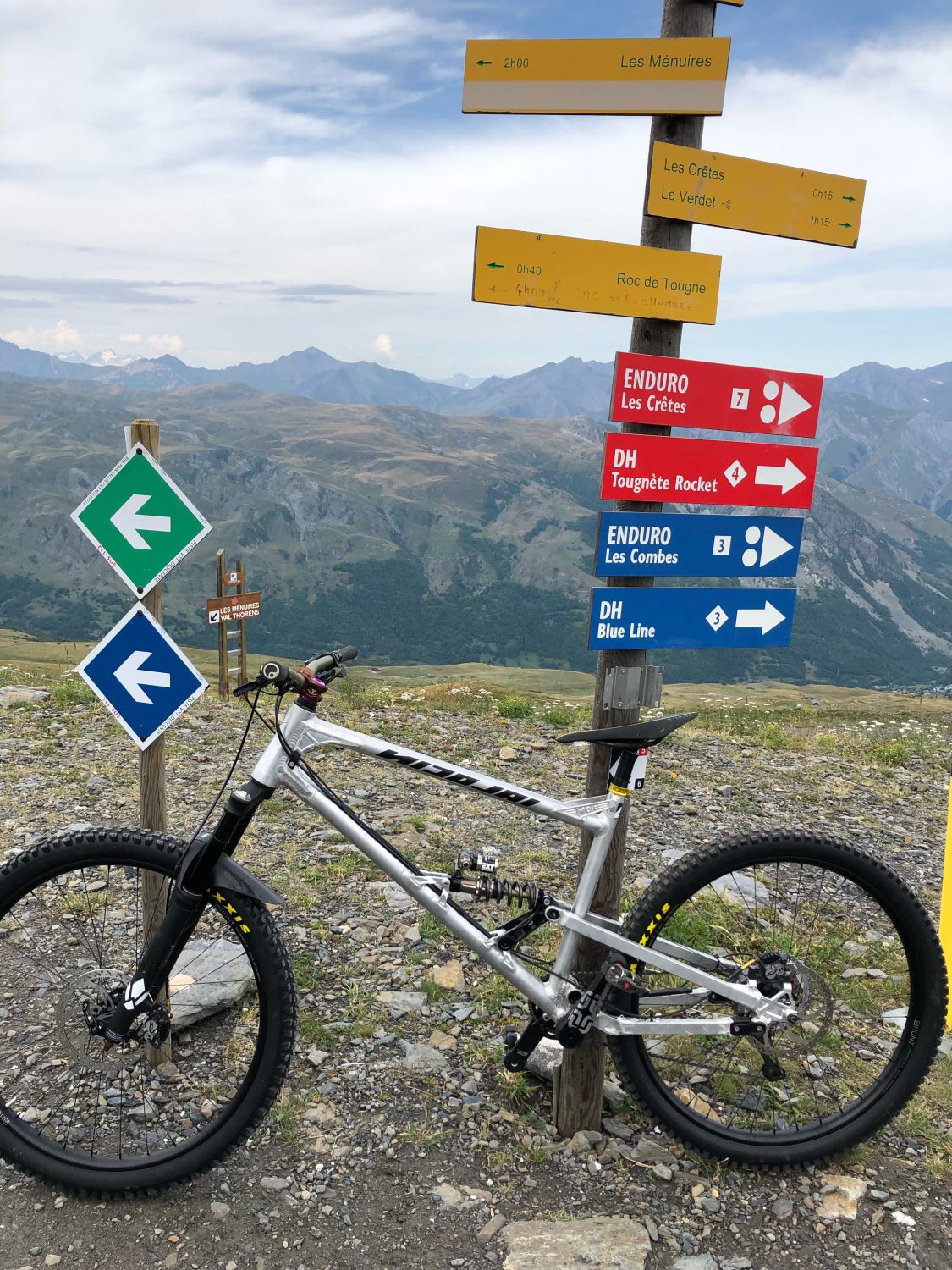 Filip
Oud-Turnhout, Belgium
In 2016 I ordered my first Geometron without even testing it, my friends called me crazy! They said that such a geometry would never work, almost 3 years later they all ride Geometron bikes. The service that the boys offer at Geometron bikes is unrivaled, in the meantime we have visited their HQ twice and we have made very good friends there. Thanks for building these bikes boys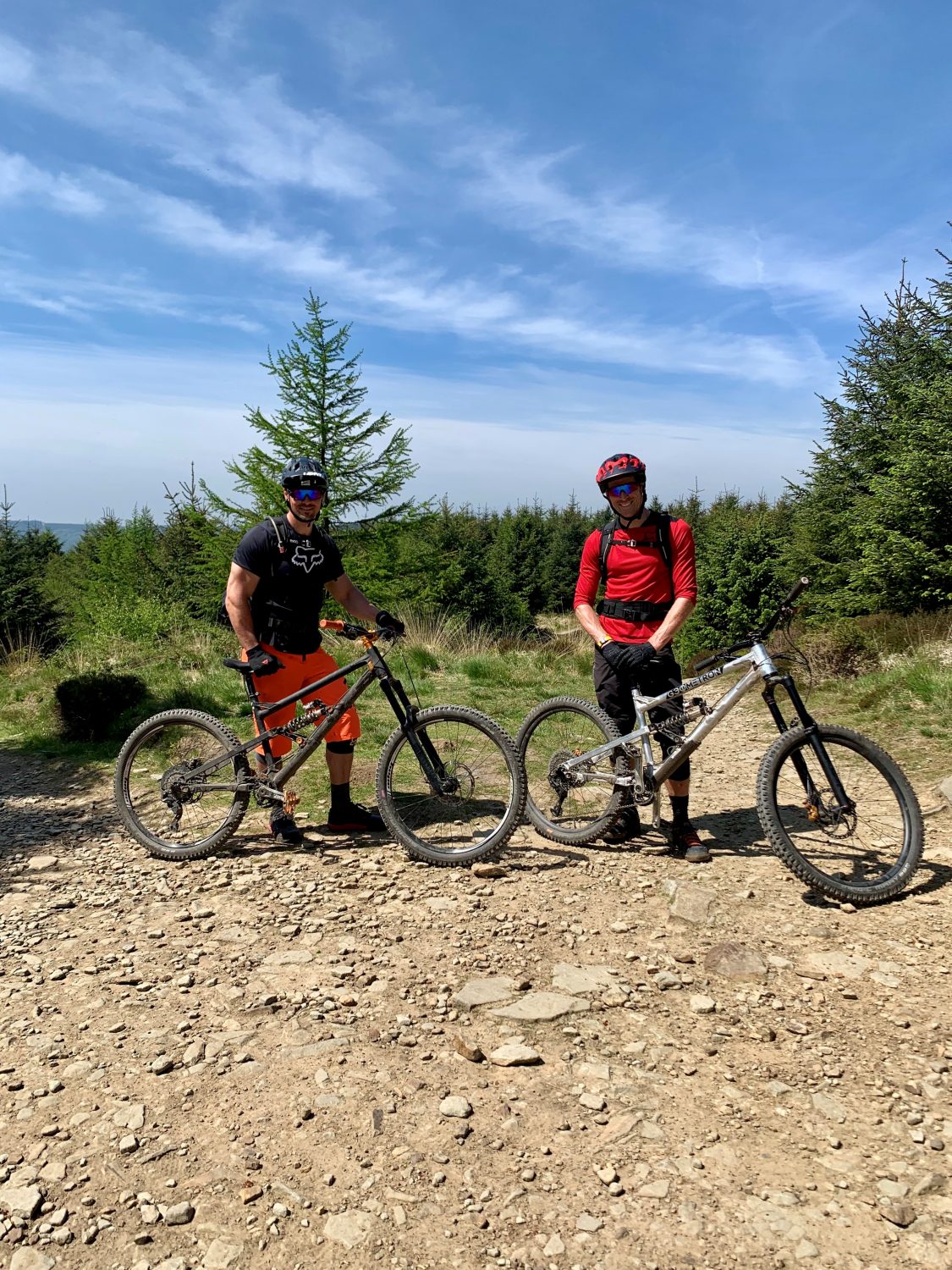 James
Barcelona, Spain
Having owned the G1 for a year I wanted to leave a review of it to let others know about how I have got on with this bike. The Geometron was a big change from my previous bike and so took me a couple of rides to adapt to its new feeling and how to ride it. Now it feels second nature. One of the big plus points is I can used this bike for all kinds of riding – i don't need 5 or so different bikes with there respective designated riding styles. I now truly have one bike for everything I need. It gives me a lot of confidence in the rocks and on steep terrain. Which is perfect for where I live here in Spain. I normally use this bike for riding Enduro style events, where the object is to just to get up a hill in order to hammer down it as fast as possible, but I have found the ups now to be as good fun to ride as going down! I have even competing in a XC race on it which surprised a few people with regards to the choice of equipment and the final result! Another bonus for me about the G1 is the adjustability. I have run the bike on 27.5 wheels, 29 wheels. Now I am running the hybrid version, which is how I originally ran the bike after the workshops advice in the 1st place! I can play with the wheelbase and geometry and go and try the changes- I find it interesting how the adjustments affect the bike. The support to get the G1 how I wanted has been second to none- and the guys have always been keen to help with my frequent questions and requests. The bike has been reliable and so much fun to use. I love riding the thing but also the quality and workmanship that has gone into the bike often finds me just staring at it in the garage! Thanks a lot guys for getting me the bike I wanted . I love it! James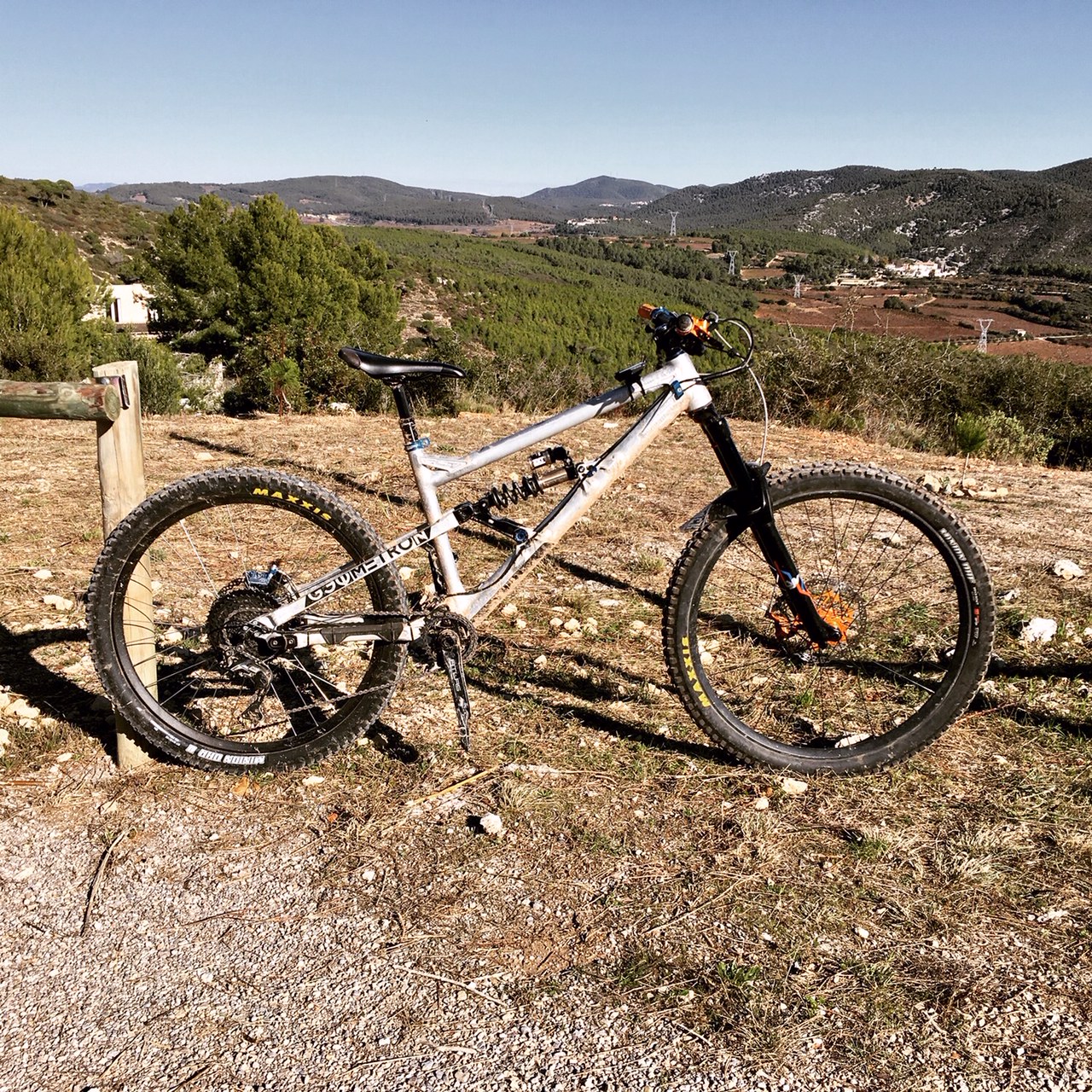 Wannes
Oud-Turnhout, Belgium
In March 2017 I purchased my first Mojo Nicolai G16 and It was an eye opener, I was amazed how well this bike climbs and descends compared to my other "enduro" bikes. Not long after that came a Geometron G15, followed by the 2018 G16 and now the G1. It's unbelievable how the Geometron team manage to change the feeling and handling of the bike with such small adjustments. For example, the G1 and G16 have almost the same numbers on paper but for one or another reason, the G1 turns significantly better at steep flat corners! The adjustable geometry, travel and wheel sizes ensure it's a future proof frame that you can adjust to any terrain. Everywhere I go the beautifully high-quality finished frame with EXT damper turns heads, I love it! The contact and service the Geometron team provide is incredible, I have visited the Geometron headquarters twice, every time I have been received like a king. It was fantastic to meet likeminded passionate people and talk about their vision of bikes. I am a huge fan, thanks for making the purchase process straightforward and for putting a smile on my face every time I ride the G1! Cheers Wannes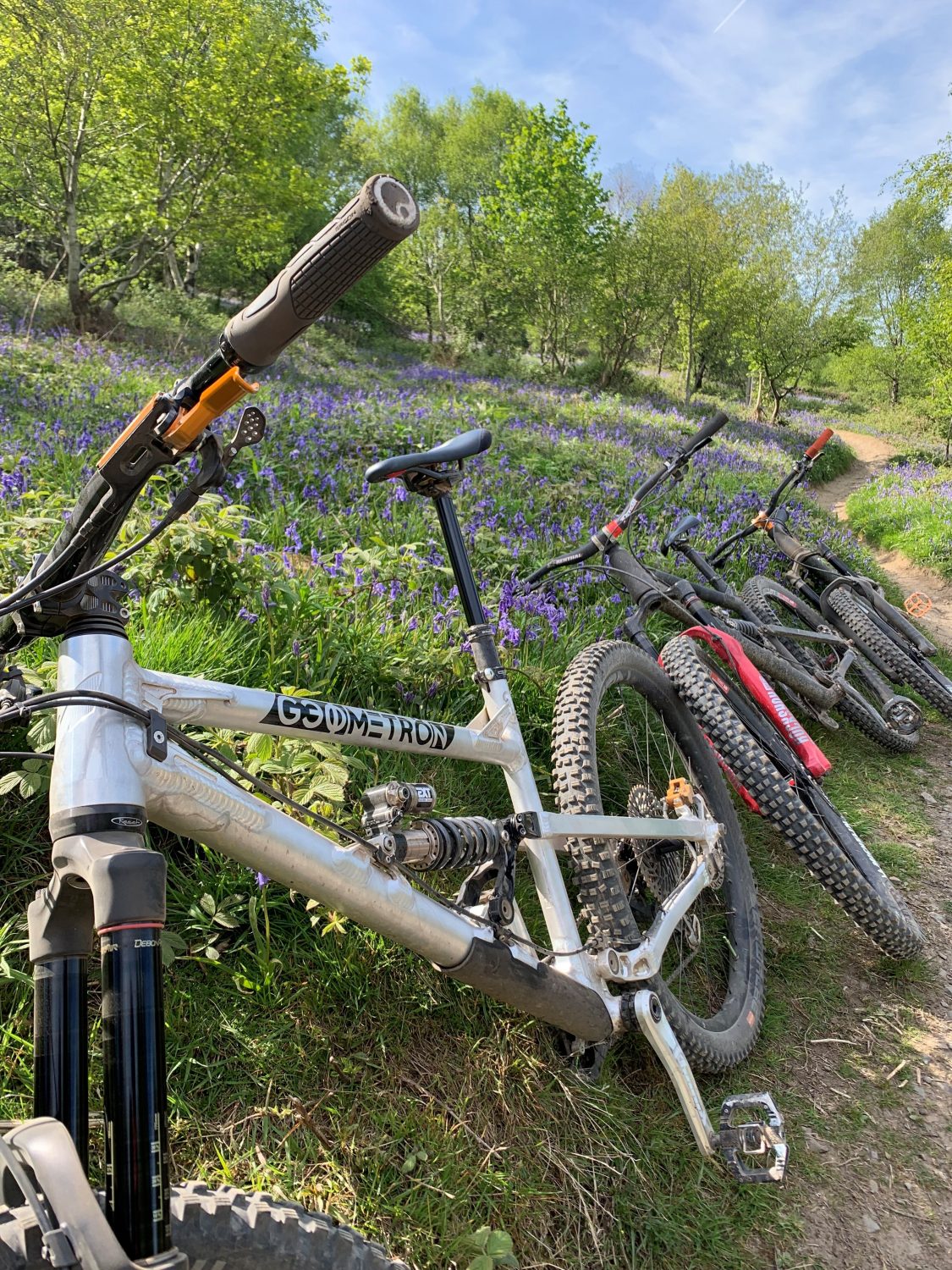 James
Surrey, England
Hi guys, Just wanna say a massive thank you for the bike, now I'm starting to get used to it I'm realising how capable it is and can't wait to push it!! Build and customer service was second to non so thanks for an awesome bike and all the help with the demo etc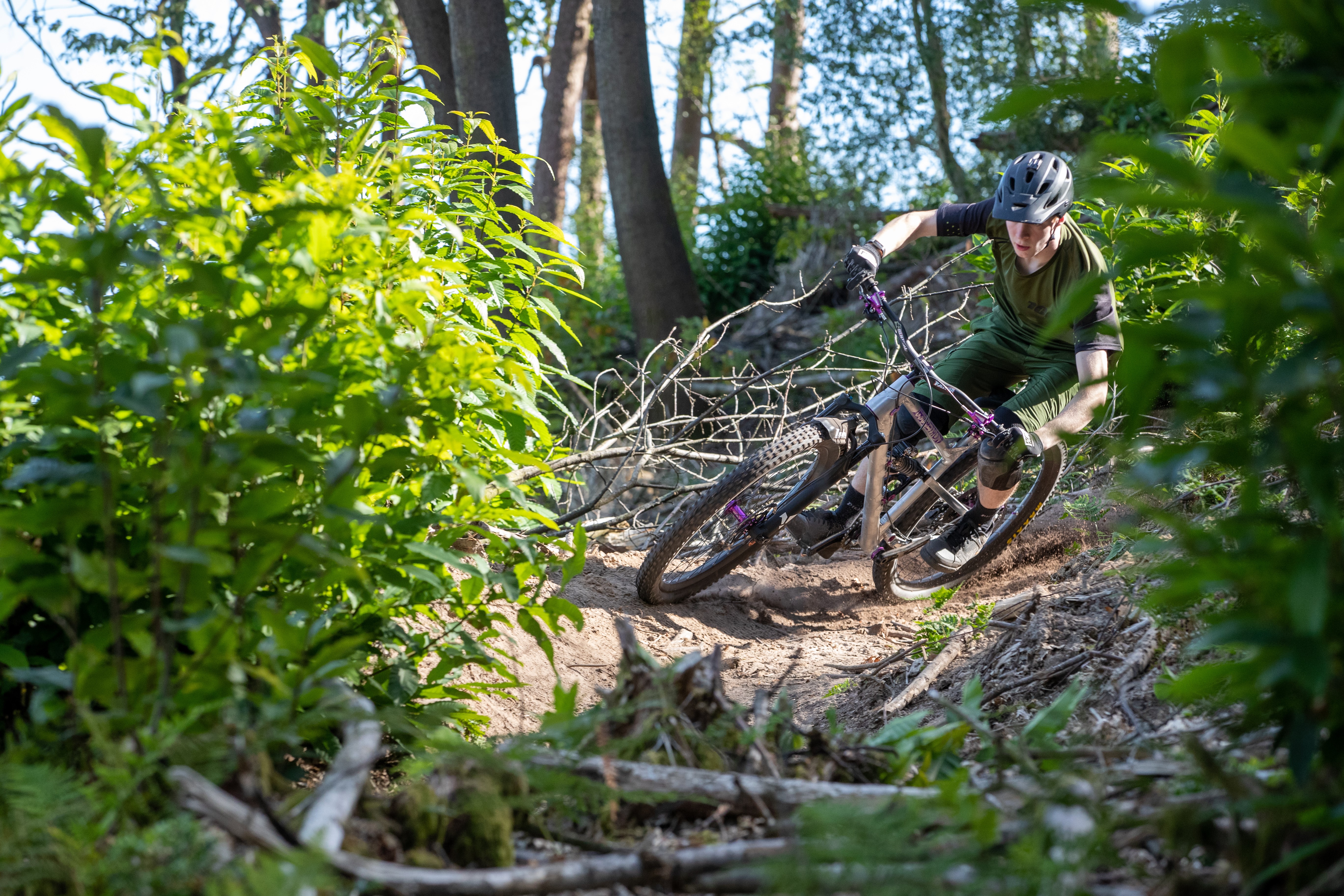 Alistair
New South Wales, Australia
Hi Paul, this bike is simply amazing fun. The faster and rougher, the better?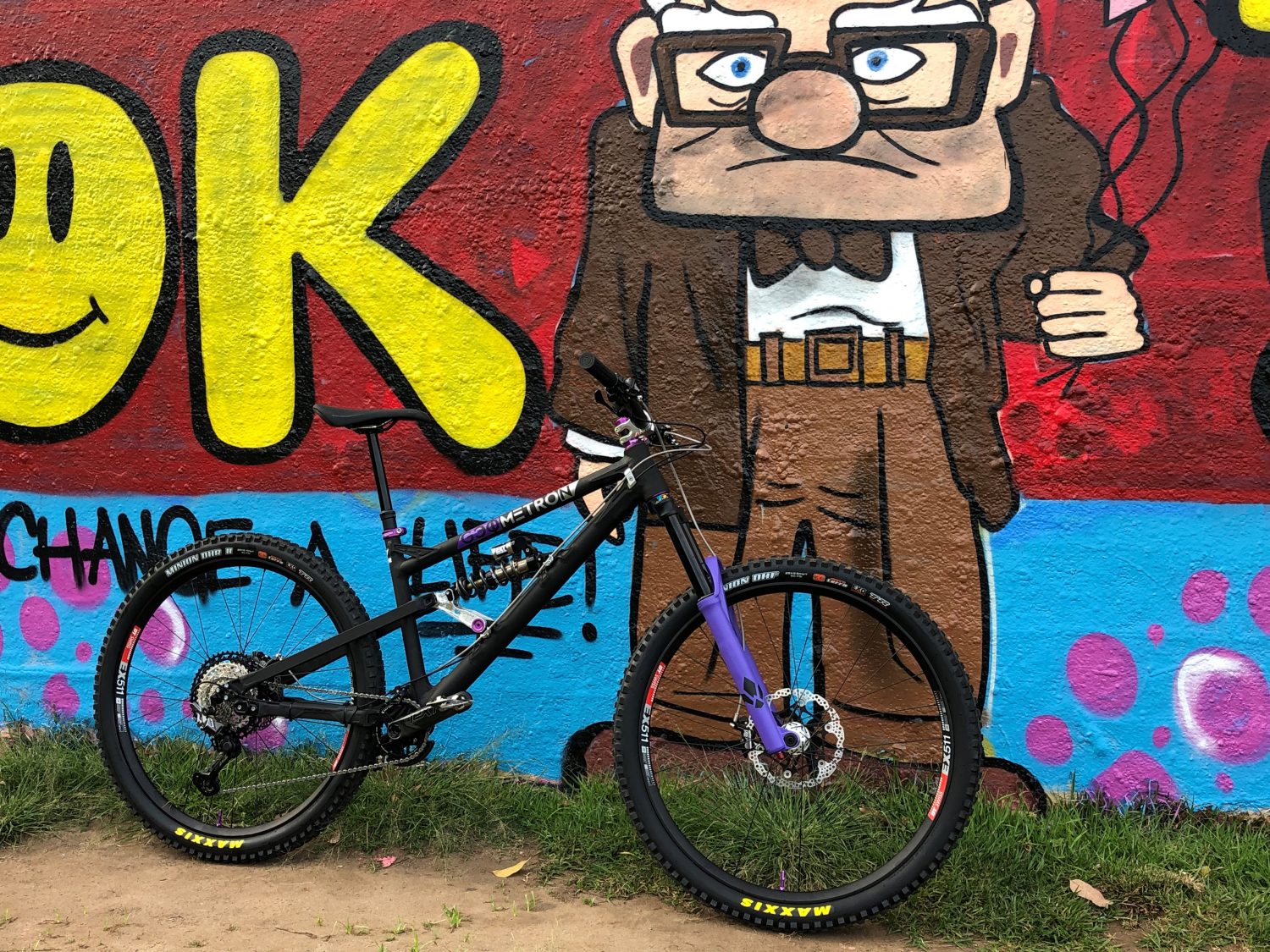 Andrew
Taranaki, New Zealand
I'd just like to give you some feedback on my experience buying the XXL Geometron G1 blind.   I found your communication and information about the product very helpful. It's not easy putting your faith in a bike you have not ridden, especially one that costs (by the time it's got through NZ customs) $1k more than a Santa Cruz Megatower.   At 6ft 5 the fit almost brought a tear to my eye. At last a bike that fits. And the ballance and efficiency during climbing is just superb. You are right, no need for the lockout. As for its enduro performance, I'm still getting used to a new technique turning such a long slack bike but the whole package is fast, and it has allowed me to push my skills beyond my existing levels to the point where I have managed to score 2 enduro podiums out of 3 races in the old boys category so I'm very happy.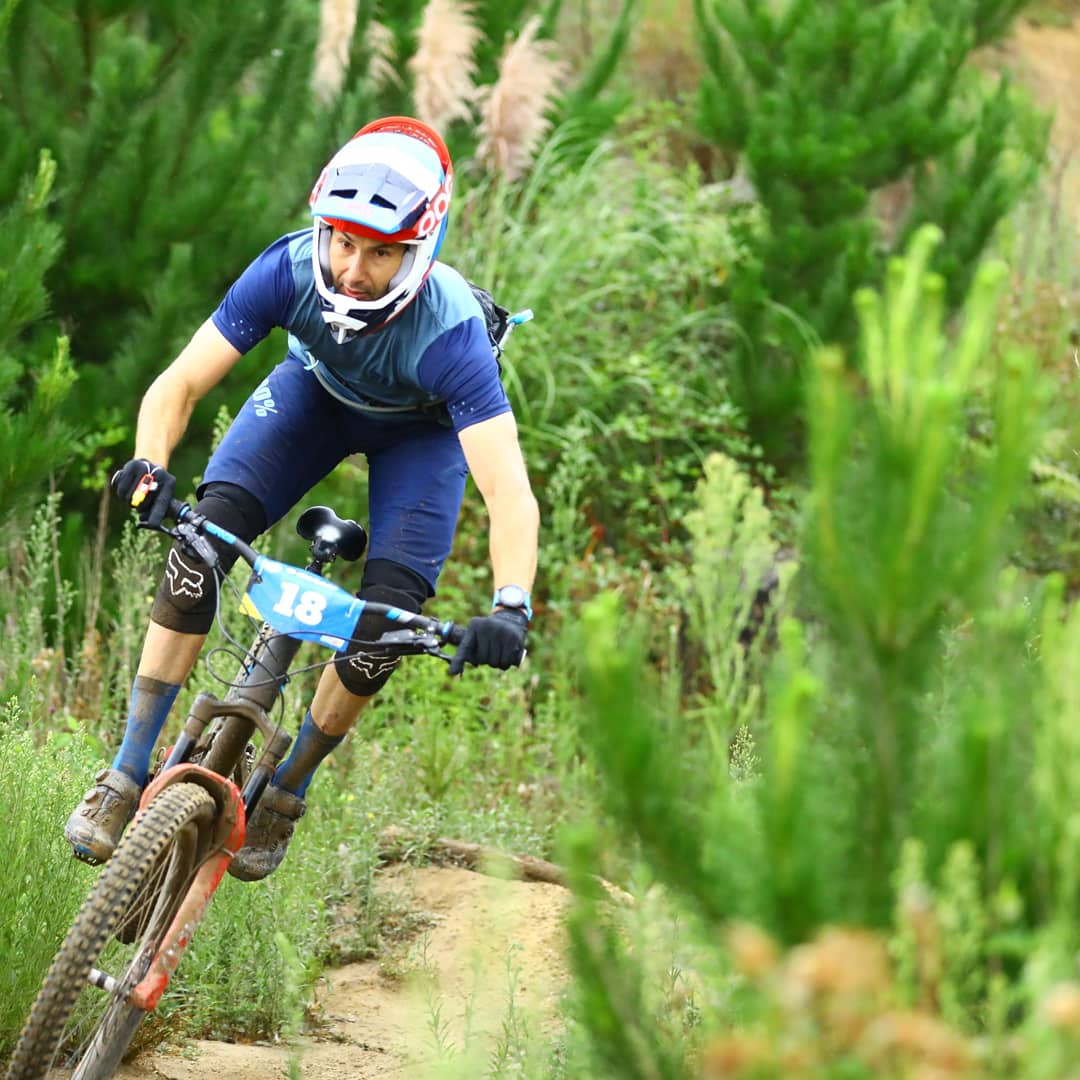 Mark
Sai Kung, Hong Kong
This bike feels very solid on the trail, especially the front end, no ghost steering from unweighted front, it goes where you point it. On my Sai Kung DH section, which is a fast narrow fire road with many ruts and rocks, it stayed true to course, not leaping off left or right as it hit rocks. Technical climbing is also very steady, this was the most amazing. G1 feels like a DH bike, but then the geometry and riding position is different. I am leaning forward more than I usual I do believe this is a crossbreed, a Pit Bull and a Jack Russell Terrier cross. I have had too much fun with the G1, still amazed how it hides its weight, I did a long XC ride last weekend, exploring some new trails, hiking the bike in places, amazing how its carries up sections I have walked in the past, even on a light XC bike. Downhill its been consistently delightful, I've kept up with buddies on 29 V10's through some of the fastest most demanding DH trails and on some occasions badgered them to let me pass. Otherwise the big thing is how it is truly stable, I made some poor line choices today in the wet but stayed upright. Climbing is amazing. Leaving younger riders on the climbs. So far the biggest thing is the precise feeling about going where you point it. Very stable, especially the steering. Pedals nicely feels lighter than it is.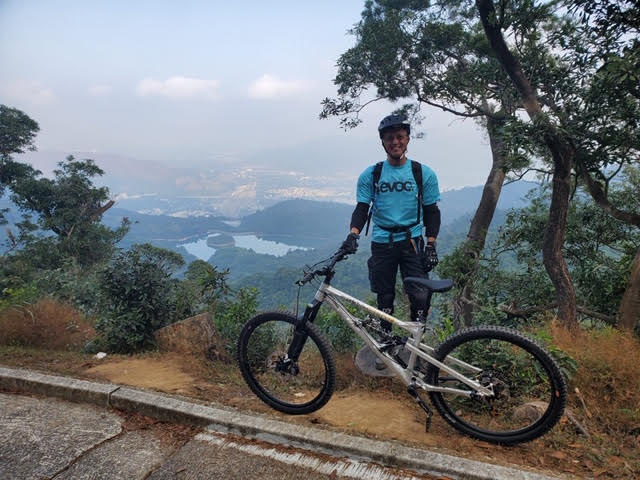 Oliver
Stroud, England
'It was so refreshing dealing with the team at Geometron. I turned up for my test ride, had some great coffee whilst Sam set me up on the bike and was then taken on a long test ride through the beautiful Wye Valley to really get a feel for the G1. I knew it would be great downhill, but I was just amazed how well it peddled up, compared to my Giant reign it just felt so efficient uphill. Before I had the Geometron I had two bikes in the garage for different purposes. A hardtail for XC and Giant reign for everything else. The Reign was great most of the time, but I never wanted to take it on long fitness rides. The G1 is now the only bike I own, I never feel it's holding me back in any respect. It really is a do it all bike. On a recent Alps trip the bike just gave me so much confidence with its stable and precise handling. The EXT shock is sublime, it's sensitive over the small bumps and takes big hits in its stride with no harsh bottoming out. Back home for XC rides, uplift days its been perfect, its definitely put a stop to that constant desire for something new, it just does everything I want! Its also drop dead gorgeous, every time I see it I the garage I can't help but smile. Thanks again for your attention to detail Sam, with the build and with setting the bike up for me. Really great customer service and I'm sure the support moving forward will be just as good!'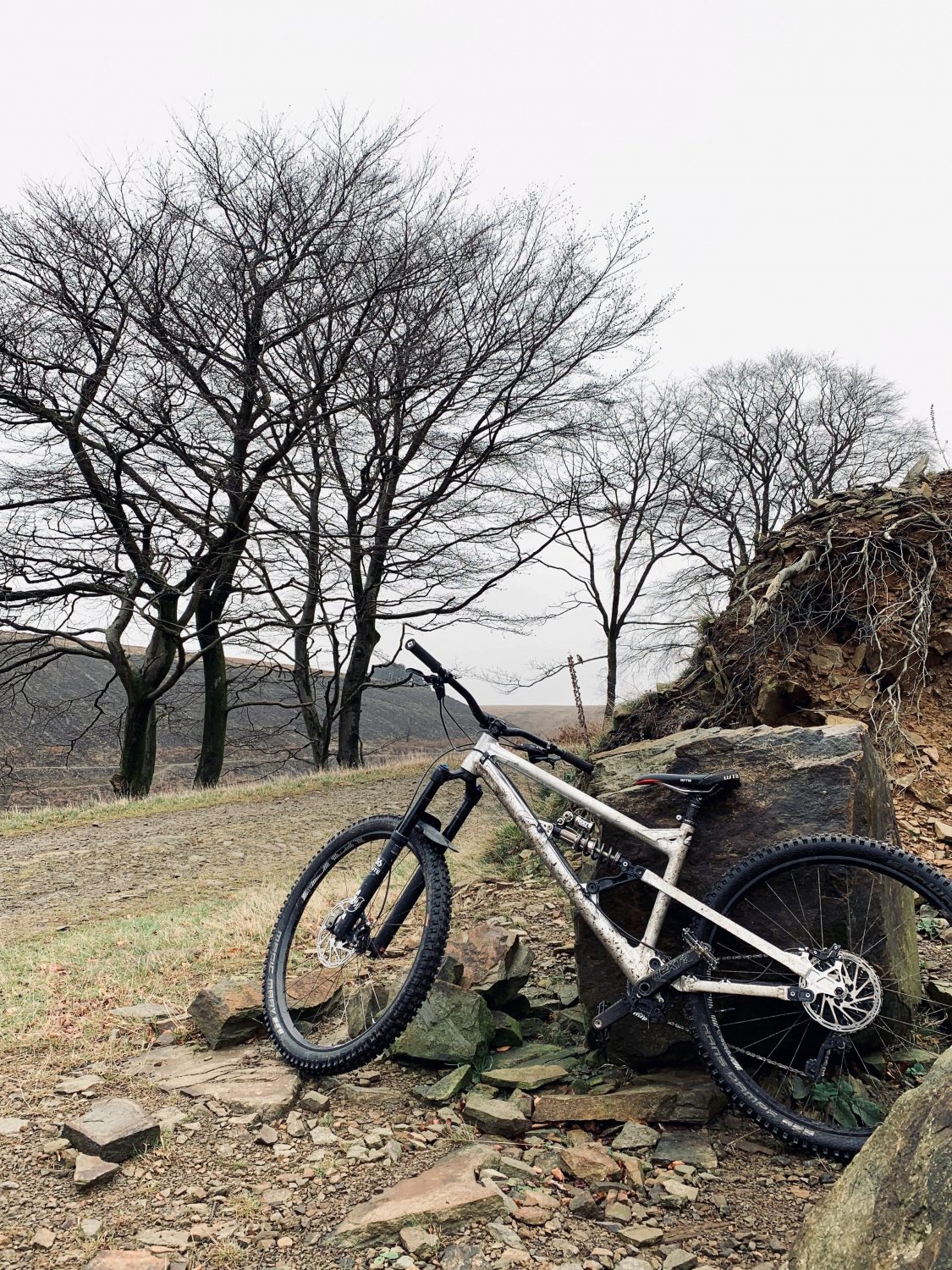 Alex
Samoens, France
"Just to let you know that the bike arrived safely last Saturday and I have been able to get out riding most days. Have done a bit of a range of riding so far….  What a bike – I am riding far quicker on my usual trails than before and I know I am nowhere near the limits of the bike!  Interesting it is much easier to get round switchbacks than I anticipated, I guess being so low makes it easier to push into the turn so the extra length is never a problem. Also it took about 2 minutes to feel comfortable on it!  One day had an 800m climb and even climbing on road is good – pedaling position seems perfect so it is really only the big tyres rolling resistance that slows me down on the road.
Last ride involved a 45 minute hike a bike up a pretty hairy pass (fixed ropes at some points) followed by a long mixed descent and it really was flawless on each part."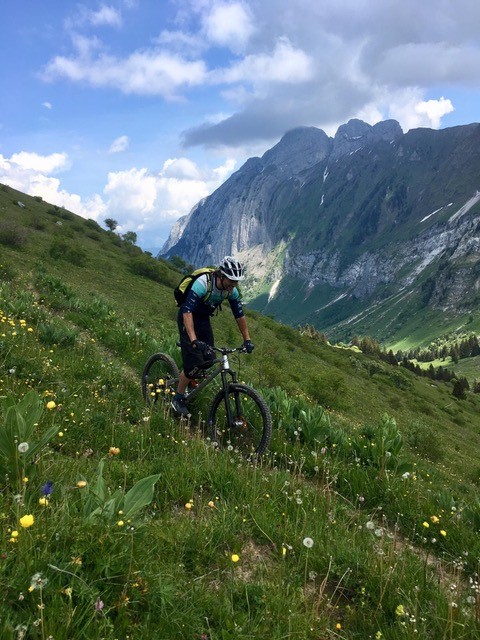 Finn
Worcester, England
I've loved the experience the Geometron team have provided. The opportunity to come to HQ and try out different frame sizes on the demo rides, ultimately persuading my decision to go for the XL, something I really don't regret once I got my bike to my favourite trails. Going into a big year racing the EWS, Geometron's really been on the mark right from the start, helping select the right components, set up the bike and offering advice over the phone when I'm at the trails. Knowing I have confidence to rely on Geometron for any advice or technical support is great, you just don't get this service from buying online or even from your local bike shop! Looking forward to the year ahead on my dream build!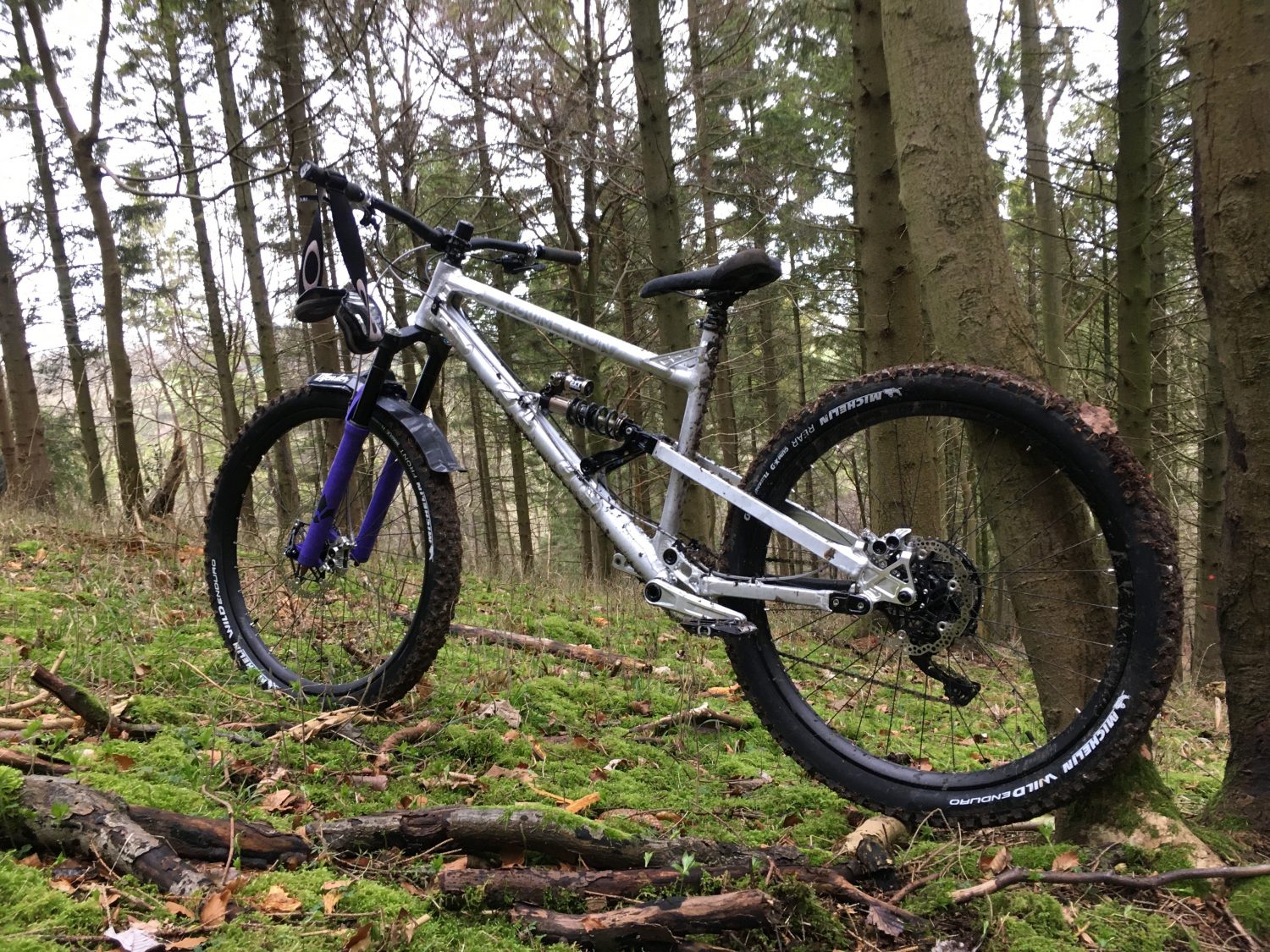 Alex
Essex, England
Hey lads, Just got back from my first G1 ride. So good to actually be on a Mountain bike rather than an imitation of one 🙂 Some thoughts, I'll try and be a bit broader and critical than just: "it's so safe and stable" The frame was a pleasure to build up, everything screams of quality and I'm confident in it's ability to withstand a beating. The shock tune feels great as well, in longer turns the slides you can hold feet up are magic! Drifting a Limo is a bit easier and more forgiving than a Renault 5 Turbo… I missed my water bottle cage, but totally appreciate the commitment to lower standover of the frame as a result. You can LEAN so far into turns, the handling and lack of obstruction makes some ridiculous carving possible. The speed and confidence it generates is wild, I could almost be fooled into thinking it wasn't as grippy mid-turn or brake as well as the Nukeproof did, but then I remembered how much faster and harder I was hitting everything. The anti squat is perfect, no bobbing whilst climbing or sprinting at all. Standing climbing is slightly harder though, my theory is the extra cockpit length brings you further forward when climbing, less weight on the rear tyre as a result. But then again, when your seat angle is appropriately steep, who needs to stand up? Speaking of seated climbing, where has a 79 degree seat angle been all my life, putting less energy into leaning forwards gives you more energy to pedal. Thanks again for your help and I look forward to some more back to back testing against my Epic to compound the results!……………………………………………………………………………….. Continued: So I took both bikes to my local cycle centre recently where there's a fairly good XC track, similar to what I'll be racing it on next year. After a couple of sighting laps I rode the Epic first followed by the G1 for a lap at pace. I monitored my heart rate and started and stopped both laps in exactly the same place, same pedals, wheels and tyres, saddle height, and crank length across both bikes. I paced my effort to be somewhere around an 8/10, hard work but not too hard that I made mistakes during the lap. The results? Epic: 7:55.13 G1: 7:50.93 My average heart rate was also 3bpm lower on the G1, and max heart rate down 6bpm, even though I went second on it! I'd put that down to being way more comfortable both up, down and on the flats on the G1. The Epic "feels" fast but that's just sketchy and needing to stay on top of it in reality. On the G1 I could just motor along and not even think about losing grip or going wide. The shock is SO good as well that I can sit down and go hard without much feedback to my arse as well, like hitting rough stuff in a Trophy truck 🙂 I'd be more than happy for you to share my bike and words, let me know if you need any more photos. I've attached a photo of it in XC mode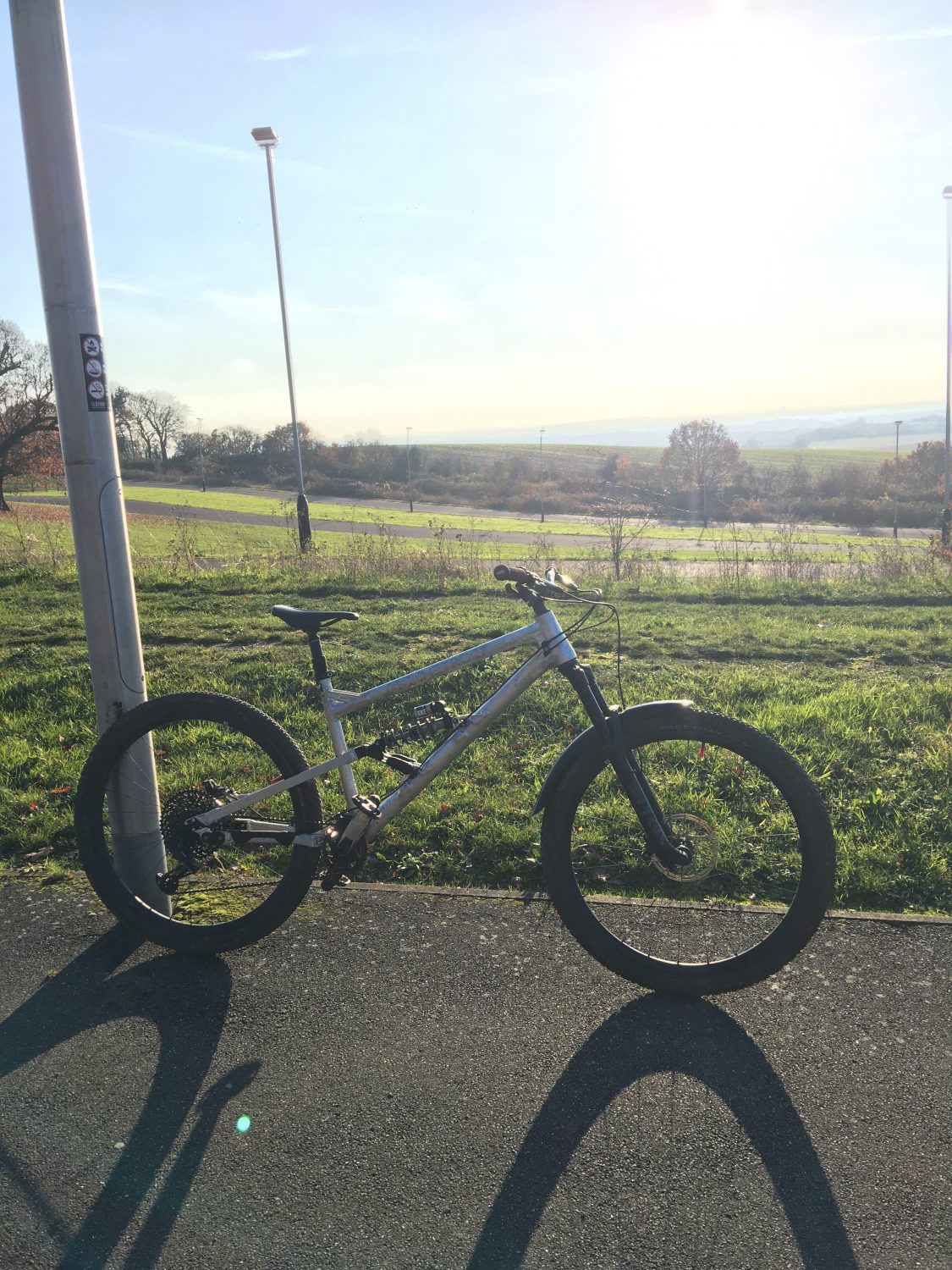 Ben
Brisbane, Australia
Hi to the folks at Geometron
Just wanted to share some feedback – I've had the bike more than a year now, and am still in love with it! The build quality is second to none, and it draws comments whenever I'm riding it. Plus, it's just so fast! One of the highlights has been taking the bike down to race the EWS in Tasmania last year. I'd never been there so was in the deep end, and I'm so glad I was on the G15 – it would have been painful on anything else. Two massive days on the bike, and I surprised myself by taking third in EWS80 Masters. And the best thing – it still brings a smile to my face every time I look at it, and the smile only gets bigger when I ride it.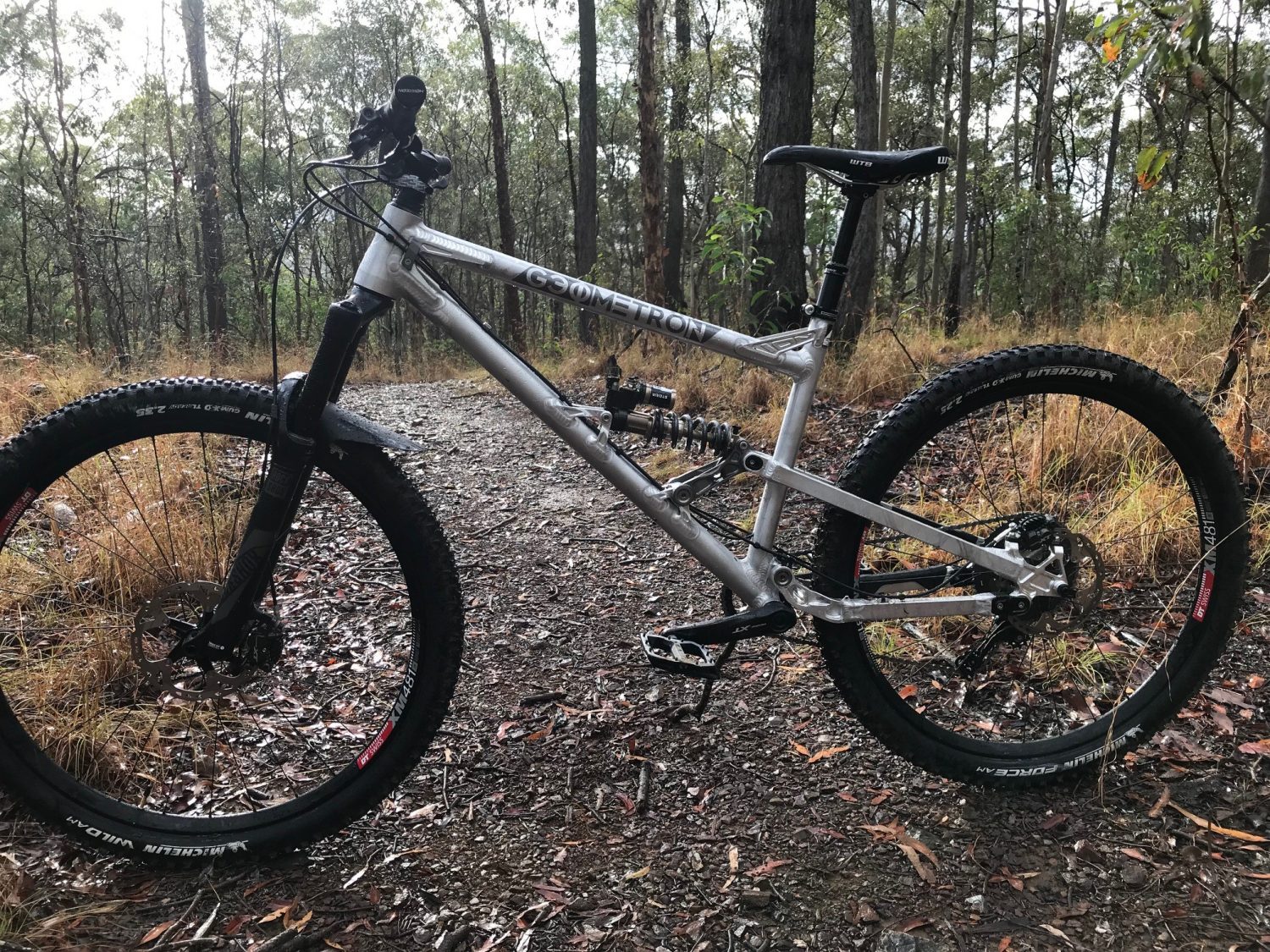 Who we build with
We only use product that we would personally use ourselves, that's why we try each item before we start using them in our bikes